OBJ's Cousin Terron Beckham Runs a 4.47 at Pro Day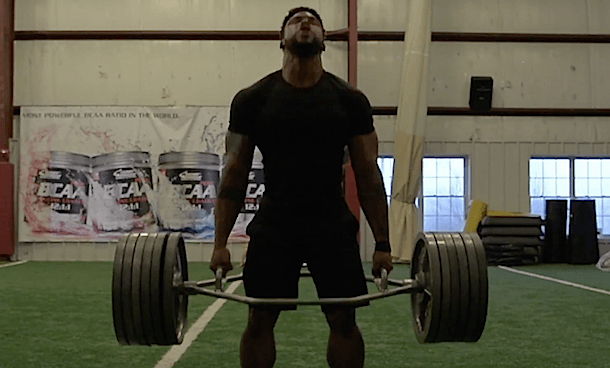 For those who haven't heard of him, Terron Beckham is an athlete trying to get into the 2016 NFL Draft. He also has the same namesake as one of the NFL's best young stars- Odell Beckham Jr.
I've read about Terron in the past but since he has zero college football experience I always thought of him as a super long shot to make the pros. That was until his pro day.
Terron put up some very respectable numbers including a 4.47 forty yard dash and over 30 reps on the bench:

Terron Beckham's first 40-yard dash attempt. pic.twitter.com/Lmp0TNdRyB

— Connor Hughes (@Connor_J_Hughes) April 7, 2016
Beckham Pro Day thus far:
– 44.5-inch vert
– 4.47 40
– 11-foot broad jump
– 36 reps at 225lb
– 6.80 3-cone

VIDEO: https://t.co/q9ZjJATxtQ

— Connor Hughes (@Connor_J_Hughes) April 7, 2016
According to reports the Colts, Jets, Giants, and Raiders were all there.
Beckham re-jumped.

He hit 44.5 inches on the vertical. #Raiders, #Giants, #Jets here to watch pic.twitter.com/FaBXl0zN4r

— Connor Hughes (@Connor_J_Hughes) April 7, 2016
I hate to say it but this guy seems more of a bodybuilder than a football player. Yes he has the numbers on paper but we haven't seen him tackle or attempt to avoid tackles on a football field. Vernon Gholston had more muscles than anyone and we saw how his career ended.
I think Terron would be best served doing a season in Canada before entering the league but we'll see. Maybe someone makes room on the practice squad for him.