Dallas Cowboys 2016 Mock Draft: Trading Down
Updated: November 14, 2015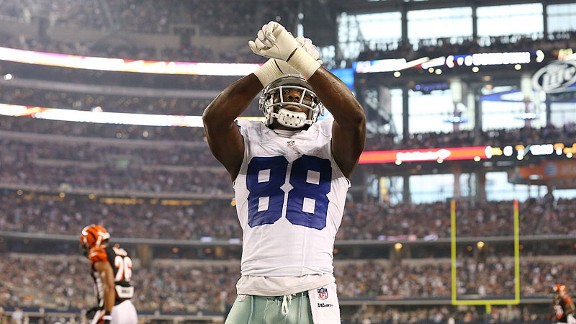 The Cowboys are 2-6 and it looks like 2015 may just be a lost season if Tony Romo cannot manage to win out the rest of Dallas' schedule. Dallas has seen a multitude of players on the injured list this season including star players Tony Romo, Dez Bryant, and Orlando Scandrick.
So what happens if Dallas misses the playoffs? Do they go after Johnny Manziel as planned? We'll see but we do know help is needed.
Cowboysfan has created a new 2016 Cowboys mock draft with a trade scenario. Check it out.
Picks below:
In this scenario Dallas is forced to trade down. Both Vernon Hargreaves and Jalen Ramsey were picked ahead of Dallas, and so trading down is the most logical thing to do.

They are currently picking 7th, Dallas decides to trade down to around 20. With this Dallas gains their 1st round pick, 2nd round pick, 3rd round pick, and future 6th round pick. Off the board went Ezekiel Elliott, Su'a Cravens, and Laquan Treadwell.

So Dallas is forced to choose between LB's Reggie Ragland and Jaylon Smith along with Darron Lee, they also have to decide about taking a WR here in Josh Doctson as well. Dallas will address a few needs in FA. I don't feel Dallas will resign Hardy whether it be his price tag or off the field scrutiny, I don't think Dallas will resign Hardy at all. So Dallas will instead go after Doug Martin the RB from Tampa in FA to run behind their line and then also sign George Illoka to play SS who currently plays for Cincy.
1. Cowboys: Darron Lee OLB Ohio State
Round 1: The Cowboys have a need at LB now, Dallas had their pick of Smith, Ragland, and Lee. Dallas went with potential here. Dallas loved Ryan Shazier the year they were forced to take Zack Martin, Dallas will have the opportunity to draft a Shazier clone who has potential to be even better. Rolando McClain has been horrible this year, and has yet to find his footing, Sean Lee continues to get hurt, and Anthony Hitchens has shown that at best he's a solid LB. The Cowboys have a huge need here, and they decide to address it. Lee is a a solid 6'1″ LB, but he weighs only 235 lbs. so he needs to bulk up. Despite this he is an active player in run defense, excellent in coverage, and is also a successful blitzer off the edge. Most will tell you Jalen Ramsey is the best playmaker in the county, Lee is a probably 2nd in that category. Darron Lee's coverage ability is so good, Ohio St. is confident in him covering TE and slot WR in man coverage. He has excellent pursuit to the football and will take appropriate angles. Needs to get a little stronger, but his range will highly entice Rod Marinelli.
2. Cowboys: Jarran Reed DT Alabama
Round 2: I think for the first time Dallas will finally address the 1 tech DT position seriously. Dallas has never thought highly of NT or big DT. But that is hurting them this year and hurt them last year as well. Crawford is a good DT, but too light to handle short yardage runs and grind it out games. Hayden is at best a decent rotational player. He gets blown off the ball, and never makes plays behind the line of scrimmage. Rod Marinelli would love to have a guy like Reed. Robinson will garner all the media attention, but Reed is the better run stuffer. He makes a huge mess of everything in the backfield, collapsing the pocket and forcing a RB to have to make an adjustment and bounce the ball outside. Reed knows how to take on blockers and also make plays in the backfield. He's 6'3″ 315 lbs. which is plenty big enough. He is a better pass rusher than Robinson as well, but this isn't his best area. Reed will allow the other D linemen to be single blocked. He should be excellent as a rookie and will really show up in the ground game. He isn't great in space though.
3. Cowboys: Josh Doctson WR TCU
Round 2: We can put a lot of the blame on the QB, and deservedly so. Cassel and Weeden simply miss a lot of throws or never even find the open man. However, the WR play hasn't been great either when Dez was out. Cole Beasley is a good WR, but in the event that Dez goes down again Terrance Williams is not up to the task of filling in that role, and we also have to consider Witten's age we don't know how much longer he has left and if he's gone the receiving options become even worse. So drafting a WR is a huge need right now maybe not round one but needs to be addressed in the top 3 rounds of this draft. Doctson is a great option for Dallas to take. Doctson is a 6'2″ 200 lbs. WR that has excellent leaping ability and range. If the ball gets into his catch radius he comes down with it. TCU trusts him to win jump ball situations, and he runs nice routes as well. His lack of muscle will hurt him early in his career as he will struggle against press coverage early on. He also isn't that fast, but a year of weight room and a year experience playing opposite Dez Bryant could make for a dangerous receiving duo for years.
Click here for the rest of the picks!