Klay Thompson's Signature ANTA Shoes are… Interesting [REVIEW]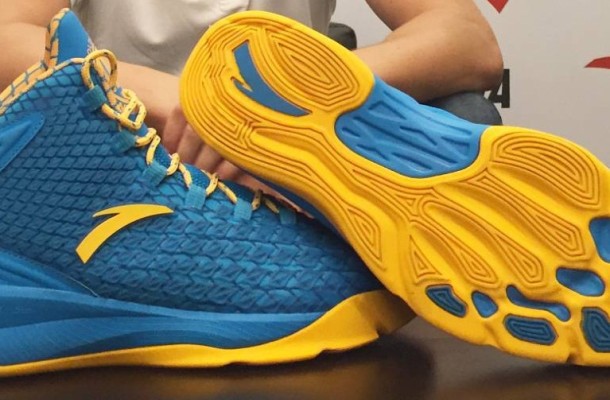 Much is being made of Warriors' guard Klay Thompson's signature shoes by ANTA. The Chinese brand has partnered with the sharpshooter to create an interesting shoe that has the internet talking.
Yes, Klay looks less than enthused at the unveiling but we don't know the whole story. Maybe he was tired, maybe he was sick. And yes, maybe he just didn't like the shoes.
And speaking of the look of the sneaks… on to those kicks and what I think.
First Impression
On first look all I can think of is "damn, someone ripped off Stephen Curry's Under Armour design!" Quite frankly, these look like the pair that were left on the cutting room floor. The team colors, slick look and high top ankle are all reminiscent of Curry's signature sneaker.
Digging Deeper
As you look at the shoes you see some things that are cool and some things that aren't. On the positive side the heel is done very well. I like the smooth zig zag pattern. The lace holes are done well tool and aren't too far apart.
Then the not-so-good pops out at you. What in the world is THAT TEXTURE on the shoe? Like, what is that supposed to be? A diamond shaped woven basket? Just terrible. This one design flaw kills the sneaker. Then there is a weird yellow grid pattern on the inside of the shoe too. Most shoes you can just put in black and they'd be passable. The texture on these make that impossible.
The sole has a weird toe based pattern. It almost looks like a human foot. I don't know if that's done for comfort but it's just plain creepy.
Would I Cop?
What do you think? Of course not. I know people are saying they'd cop if it was a NIKE exclusive but I wouldn't. The texture makes these shoes look like something a kid who's trying to fit in with the cool kids on a budget would buy. These are the type of shoes kids' parents get them when they don't have money for the J's.
All in all these shoes could have been saved with a much simpler design. Sometimes less is more. I for one will not be copping a pair of these.