Swaggy P Was Right: Lebron to Star in Space Jam 2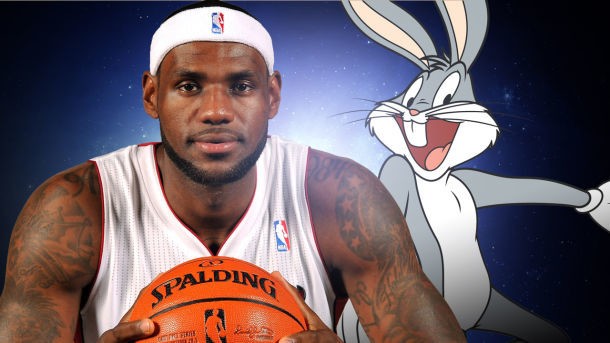 Remember when Lebron said he had a secret motivation to win the NBA Finals? A lot of speculation went around but it was Swaggy P of all people who was the voice of reason.
Yes I just typed that. Swaggy P was the voice of reason.
Swaggy aka Nick Young said that Lebron desperately wanted to win the NBA Finals because Space Jam 2 was being made with him as the lead actor. We've already seen Lebron star in Amy Shumer's Trainwreck, so it wasn't that far feteched of a theory.
Now the theory is a reality. Space Jam 2 is here, starring King James:
Basketball fans and snake people alike reacted with joy on Wednesday after LeBron James announced his production company and Warner Bros. Entertainment have struck a deal on a partnership spanning film, TV and digital content.

Warner Bros., you'll recall, got Michael Jordan to star in the 1996 classic Space Jam. Because the Internet is a measured and rational place, news of James' new deal immediately led to a lot of thoughtful speculation about just one thing: ZOMG when does Space Jam 2 starring LeBron come out?

Answering that question requires reading some tea leaves, but it's possible the sequel just might bless us sooner than later.

"LeBron James has one of the most powerful, well-known brands in the world and we are excited to be in business with him and his partner, Maverick Carter, and SpringHill Entertainment," Warner Bros. chairman and CEO Kevin Tsujihara said in a statement after the deal between his company and James' SpringHill Entertainment was announced Wednesday. "The combination of LeBron's global media presence and Warner Bros.' unmatched production and distribution expertise is a big win for fans everywhere."

That's just corporate-speak for "Space Jam 2 is coming," right? Right?

Who knows. But thanks to sharp-eyed Capital New York editor Alex Weprin, we do know this much: Warner Bros. recently filed new Space Jam trademarks.

New trademarks filed June 8, partnership with James announced July 22 — do the math, sheeple.

Well, maybe. A Space Jam sequel starting James has long been a gossip topic among fans of both the NBA and the beloved 1996 flick.

Source: Mashable
I actually think Lebron losing and suffering through a redemption story makes for a more compelling story. It will teach kids that you don't always win, even when you are the biggest and strongest kid on the playground.
Will you watch Space Jam 2? Let's discuss.