#FireBeadle: Michelle Beadle Could Be Fired Due to ESPN Budget Cuts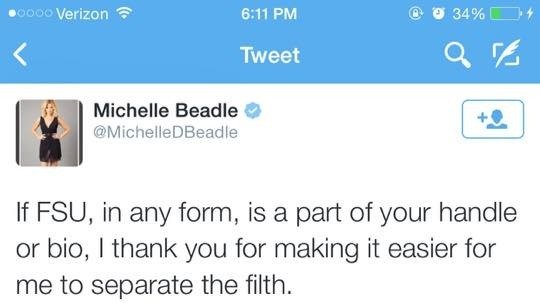 ESPN host Michelle Beadle has drawn the ire of Florida State fans regarding her comments about the University. In case you forgot, she called anyone attached to the University "filth" via twitter.
Sadly, Beadle isn't the only ESPN employee to say something offensive this week.
Colin Cowherd has gotten himself taken off of television over insensitive remarks regarding Dominicans. If you believe the rumors it seems like right about now Fox Sports Net is going to start grabbing up some of the ESPN talents. Especially with budget cuts due over at the four letter sports leader:
"The Wall Street Journal report had pinpointed Cowherd, along with host/reporter Michelle Beadle, NFL reporter Adam Schefter and Monday Night Football anchor Mike Tirico, as big names that could be affected by ESPN tightening its belt, but anyone who listens to Cowherd's The Herd knows that he hasn't exactly been quiet over the air about his frustrations with the sports giant."

"TBL's report also points out that Cowherd joining Fox would signal a reunion between he and Jamie Horowitz, the new president of Fox Sports. Horowitz produced ESPN's SportsNation with Cowherd and Beadle, making Beadle another ESPN personality who could leave for Fox Sports as well. That reunion could also pave the way for Cowherd to get his own television show or at least contribute to programs on Fox and FS1."
What do you think? Will ESPN #FireBeadle or will they continue to turn a blind eye to the type of ideas this employee continues to communicate via her twitter account?
I can only imagine how some of the colleagues at ESPN really feel about all of this…