#FireBeadle: Florida State Fans Petition to Get Michelle Beadle Fired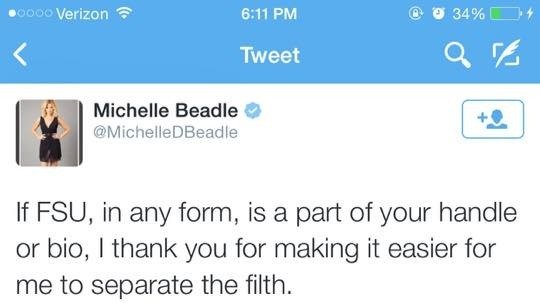 ESPN personality Michelle Beadle has drawn the ire of Florida State fans who want her suspended or removed from television.
After ALLEGEDLY engaging in one of her usual twitter spats, Michelle Beadle put out a tweet ALLEGEDLY directed at the entire Florida State community. Word to the wise these always end with her blocking mass amounts of people.
Well FSU fans aren't taking it lightly and have gathered a Change.org petition to have her removed:
Recently, ESPN sports reporter Michelle Beadle has publicly expressed her hatred for Florida State University, its players and its students through unprofessional comments portrayed on her twitter page. Michelle has stated that anyone linked to Florida State University is "filth" and taken as a joke. Additional derogatory comments have continued to come from Beadle following the recent acts of violence committed by a few members of the Florida State football team, actions of which were caught on camera. As students, alumni and fans of Florida State University we fully support freedom of speech, but her recent comments are hurtful, thoughtless and uncensored and we believe she should not be representing ESPN. Florida State University consists of 40,000 students and hundreds of thousands of alumni and other supporters, and we are truly so much more than football. It is shameful to stereotype a large school like FSU based off of the actions of only a small percentage of the football team. No, we do not in any way support their violence but we believe one should not be publicly frowned upon simply for carrying the title of Florida State University. Jimbo Fisher and President Thrasher have been diligently working to remind players of the rules and values expected of student athletes. Florida State only has so much control over its athletes, as does every other university, and cannot reform ones character or moral values which they were raised upon. The majority of students, alumni and all supporters are proud to be from such a diverse and powerful community and do uphold the true values upon which FSU was founded. We believe immediate action should be taken regarding the impulsive generalizations which Michelle Beadle has so clearly posted on her twitter page, as this is not the first time she has over-stepped her boundaries as a, so-called, unbiased ESPN reporter.
What do you think? Do you think that the Stone Cold Steve Austin loving, Mayweather hater should be removed?
Do you think that a person that would ALLEGEDLY tweet behind a co-worker's back instead of confronting him face-to-face should suffer such a fate?
Should she have to apologize to FSU?
Discuss.