#Ferguson #STL Police Demand Apology for Rams Players "Hands Up Don't Shoot"
Updated: November 30, 2014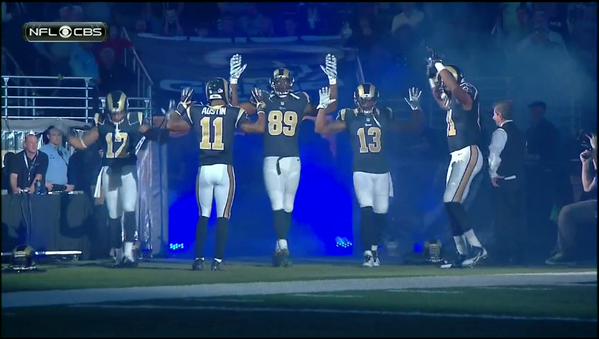 This is precisely why our athletes don't get involved in politics. People forget that under the helmet and behind the jersey is a regular man who has feelings, opinions, and thoughts. They are expected to be million dollar robots and that simply isn't the case anymore with Facebook, Twitter, etc.
If you want to see what shoes Tavon Austin is rocking, you can because he shares that information online. Some people enjoy the interaction. Just don't be offended when that athlete you love to know about expresses his opinion on something other than football or entertainment.
The St. Louis Police Officers Association is profoundly disappointed with the members of the St. Louis Rams football team who chose to ignore the mountains of evidence released from the St. Louis County Grand Jury this week and engage in a display that police officers around the nation found tasteless, offensive and inflammatory.

The SLPOA is calling for the players involved to be disciplined and for the Rams and the NFL to deliver a very public apology. Roorda said he planned to speak to the NFL and the Rams to voice his organization's displeasure tomorrow. He also plans to reach out to other police organizations in St. Louis and around the country to enlist their input on what the appropriate response from law enforcement should be. Roorda warned, "I know that there are those that will say that these players are simply exercising their First Amendment rights. Well I've got news for people who think that way, cops have first amendment rights too, and we plan to exercise ours. I'd remind the NFL and their players that it is not the violent thugs burning down buildings that buy their advertiser's products. It's cops and the good people of St. Louis and other NFL towns that do. Somebody needs to throw a flag on this play. If it's not the NFL and the Rams, then it'll be cops and their supporters."

http://www.ksdk.com/story/news/local/2014/11/30/stl-police-officers-association-condemns-rams-display/19721979/
"Hands up, Don't Shoot" goes beyond Mike Brown. It goes beyond police. It is about a society where a certain class of people thinks they can control, kill, injure, detain, and arrest another class of people for no other reason other than they can. People aren't going to sit back and watch this anymore. 12 year boys are getting shot on sight for routine police calls. The protests are going to get larger. The time to be silent is over.
Peace to the freedom fighters.