CBS Sports Fantasy Football: Draft Your League!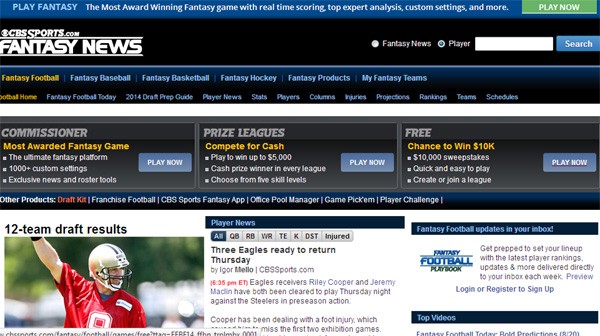 This is a Sponsored post written by me on behalf of CBS Sports for SocialSpark. All opinions are 100% mine.
Fantasy sports have been among the rapidly growing online activities in recent years. Football is the leading in popularity in fantasy sport. CBS Sports Fantasy football is the #1 Most Awarded Fantasy Football game and has been there for years. It has become too much quick and easy to research for your team's potential players from Internet. You find the most recent updates online regarding suspensions, trades, injuries and other things almost instantly. You can also access the CBS sports draft preparations. You get into the actual draft room or you may do practice or mock drafts, to experience how the draft operates and be informed on the options available for you as you wait for your picking turn.
A lot of people like the CBS Sports Ultimate Fantasy Football Game which is the expert's choice and the most trusted Fantasy game. It has a long standing history and reliability. Millions of people in US are drawn by unlimited live scoring, customizable league rules, the story posting capability, and much more, to each year's production of CBS Sports' NFL fantasy. A great thing is the amount of options available to create your league- there are over1000 ways to customize your league! The only thing to note is that a CBS Sports fantasy football league you wish to draft comes with a certain cost. As of 2009 NFL season every league could go $149.95. Beside the limiting factor, this cost depends with how big the league is, a big league has a cheaper cost to the members.
Drafting Fantasy Football usually occurs in either of two forms, auto or live. Drafting live fantasy football is done in real time. Auto on the other hand is drafted using player rankings of your own where you automatically select the players when it is your turn to pick in the order. Regardless of the way you choose, the best approaches is taking the research on your player rankings and take some players for every position that you are interested with to probably have your team's additions. Come up with a list that you will use as your drafting order.
It is recommended that you avoid drafting a big number of players from the same team from teams that might have byes on the same week. Otherwise you may have a critical player shortage for an important match. Check out the 2014 Fantasy Football Special Offer now!