Cleveland Browns to Unveil New Uniforms Before 2015 Draft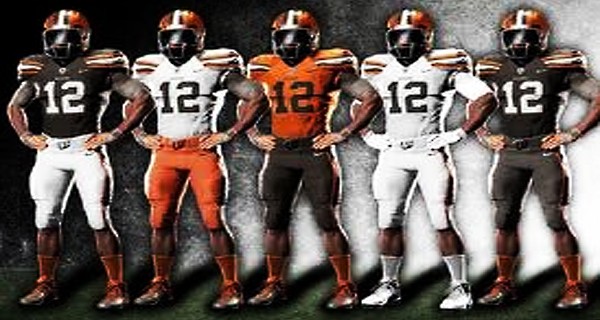 The Tampa Bay Buccaneers aren't the only team to change their uniforms. Word is that the Cleveland Browns are going to be changing their legendary uniforms within the next year.
Rumor is that the Browns aren't going to touch the helmets but until the sheet comes off don't believe anything unless you see it.
"We'll have cutting-edge uniforms that link back to our history," Scheiner told Bull & Fox of 92.3 The Fan in Cleveland on Tuesday. "I'm really excited about our direction. We've been working with the NFL and Nike for almost a year now. We have another year until we roll out our uniforms. I'd be very surprised if our fans don't love our new-look uniforms."

Souce: http://profootballtalk.nbcsports.com/2014/03/04/browns-unveiling-cutting-edge-uniforms-next-year/
Hopefully orange isn't a prevalent color in the new scheme and they stay true to the "Browns" name. I'd expect anything from NIKE, because anything is possible if you've seen their work in the college game. Who knows, maybe Johnny Football will be modeling these new threads.