Richie Incognito Situation Asks Should Teams Draft Character over Talent?
Updated: November 8, 2013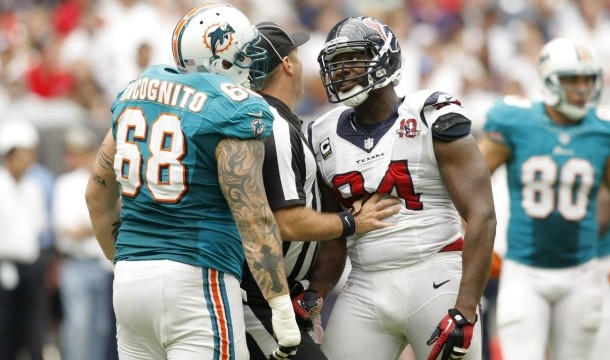 As you all know, Richie Incognito is currently in a scandal with the Miami Dolphins and teammate Jonathan Martin. Incognito was allegedly caught sending racially offensive text messages and voice mails to Jonathan Martin. Martin decided to leave the team after repeated abuse and is at home in California deciding his next course of action. Incognito has been suspended with no definite plans to return.
This begs the question… when does character supersede talent?
We all know Incognito is one of the most controversial players in the game. He was suspended from his college squad for an off campus incident, cut from the team that drafted him after several incidents, has gotten into several in-game fights, and now this. He is a Pro Bowl talent but will teams start to shy away from guys with checkered pasts?
Justin Blackmon is another case. He had alcohol issues in college, and now is having them as a pro, allegedly. He too has been suspended from his pro team with no timetable to return. Aldon Smith is another who is developing a scary habit of getting into trouble.
In my opinion, teams have to start not only drafting talent that meshes better but signing veterans who will set the tone for the kind of professional behavior that will be expected on the squad. Ray Lewis and Bart Scott, both former Ravens, came out and said that Incognito's actions would not be tolerated on the Ravens.
Remember a few years ago when the Raven's drafted Jimmy Smith out of Colorado and everyone said he'd be a problem in the league?
Here is what I wrote then:
If Smith gets in with a locker room in tune with his personality we may look back and say he was one of if not the best cornerback from this class.
And Smith has been a regular pro since joining the Ravens. So it goes to show you, character does matter but only to the degree that character meshes with the rest of the locker room. It seems that Jonathan Martin may simply have been a bad character match for a Dolphins team that is rough around the edges. After all, Richie Incognito allegedly once bought himself gifts with Ryan Tannehill's credit card and it was ok.