Did Keyshawn Johnson Get in a Fight With Justin Bieber?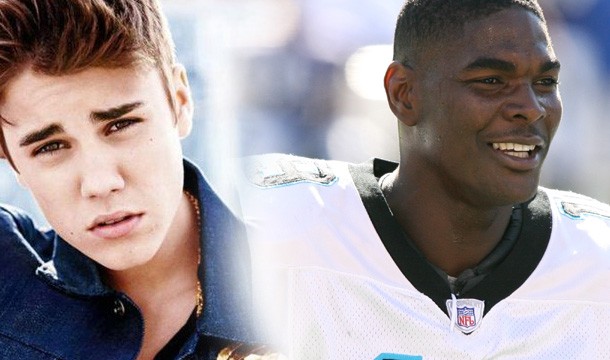 Very often the worlds of sports and entertainment collide. Ballers want to be rappers and singers. Signers and rappers want to be ballers. Very rarely do the worlds collide like this though. According to multiple sources NFL legend Keyshawn Johnson may have nearly gotten into a fight with pop star Justin Bieber.
Sources tell us … Keyshawn — a former NFL superstar — had just left a party Monday night inside of his exclusive gated community in Calabasas (with his child in the car), when Bieber zoomed by in his Ferrari at breakneck speeds.

We're told Keyshawn was furious — feeling Justin could've killed someone — so he brought his kid home, then chased after the singer in his Prius (yes, a Prius chasing a Ferrari).

When KJ got to Bieber's pad — he blocked Justin's Ferrari in the driveway and got out of his car to confront Justin face-to-face … but Justin ran inside of his house and refused to come out.

Read more: http://www.tmz.com/2013/05/28/justin-bieber-keyshawn-johnson-showdown-police-reckless-driving-confrontation-weed/#ixzz2UdR6Mb7q
If you don't remember Keyshawn was the #1 overall pick of the New York Jets in the 1996 draft. Even back then he displayed a temper which resulted in a catchphrase "Give Me the Damn Ball!" which he later published a book under the same title. That was way before Bieber's time so he probably just thought that dude in the Prius was some random middle aged man and not a NFL great.
Thankfully the Biebs didn't want that work from Keyshawn. I don't blame him. I just hope that this situation can be resolved amicably without a physical fight happening between Keyshawn Johnson and Justin Bieber.