Will Matt Barkley Be Drafted Ahead of Geno Smith?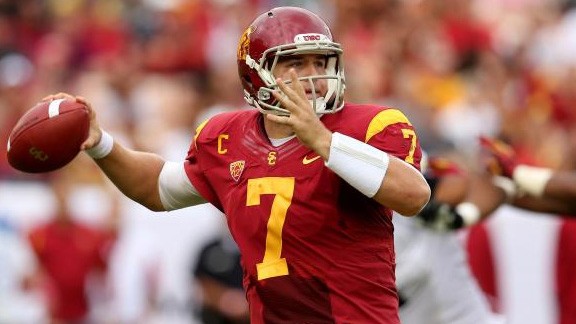 Peter King is setting the draft world on fire today with another bold prediction coming from his direction. But wait, before we get into this let me point you to the last bold prediction Peter King had about a quarterback: Peter King has Ohio State QB Troy Smith going #2 overall to the Oakland Raiders.
We never forget.
Anyways, Peter King and Pro Football Talk's Mike Florio are both driving the Matt Barkley bandwagon pretty hard. He is what Florio published:
Peter King of SI.com points out, a "strong workout" could push Barkley into the top half of the first round.

Since no quarterback ever has anything other than a "strong workout" at Pro Day, look for Barkley to make his move past Smith.
Matt Barkley hasn't thrown a football in public in months. Just a few weeks before the combine he said his shoulder was near 100%… only for him to skip out on the competition. Of course it makes more sense for him to throw in an environment built for his success, millions of dollars are on the line, but I guarantee that if I remember this sequence of events an NFL Scout surely does.
Was Barkley really not "near 100%" during the combine or did he just not want to compete? That's a question teams will have to find out the answer to. As far as on the field goes Barkley would easily be a mid to late first rounder if the need for a passer was that desperate in this draft. With developmental guys like Tyler Wilson, EJ Manuel, and Tyler Bray in this draft is it really worth it for a team to pick Barkley in round one? Especially considering the questions over his arm strength and injury?