Got Paid: Bengals Sign Michael Johnson to Franchise Deal Worth $11 Million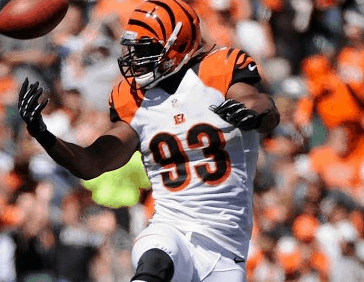 Many of us have thought for weeks and weeks that the Bengals would allow defensive end Michael Johnson to hit free agency. With Geno Atkins looking like a top 5 defensive lineman, it's been easy to project the Bengals letting Johnson go and drafting his replacement in the NFL Draft. However that will not be happening.
According to reports, Johnson will be franchised by the Bengals under a one-year $11 million dollar contract. That's a lot of money!
Bengals officially designated DE Michael Johnson as the team's franchise player.

— Adam Schefter (@AdamSchefter) March 1, 2013
The Bengals have one of the best defensive lines in the game and it still isn't out of the question that Johnson's replacement could be drafted this fall. We'll see if there is a long term contract coming.