Matt Elam and Shariff Floyd Declare for the Draft After Getting That Work From Teddy Bridgewater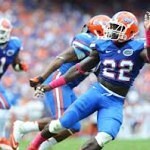 Who saw last night's BCS Sugar Bowl? Well if you didn't left me sum things up for you: Florida's defense got pushed around by Lousiville pretty badly and Teddy Bridgewater had an almost perfect performance.
The way Bridgewater ran the offense and executed passing plays are the reasons he is already in the top two on my 2014 NFL Mock Draft. It was so impressive many Florida Gators made it a point to come up and show respect after the game. But this post isn't about him. It's about the two pair of Gators that will be throwing their hat's into the draft, Matt Elam and Shariff Floyd:
After the game, Matt Elam and Sharrif Floyd both announced that they will enter the NFL Draft. Good luck to them both.

— GatorZone Football (@GatorZoneFB) January 3, 2013
I have Floyd in my 2014 mock, so I'm going to have to edit that soon as well. I think both have a shot at being high second rounders, third rounders at worse. It just depends how they stack up at the combine. I'm very interested to see how Floyd looks in the drills.