Matt Scott Breaks Arizona's Passing Record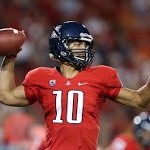 Remember when Rich Rodriguez guaranteed that Arizona would win the National Title? Well, obviously that will not happen this season but they seem to be further on their way than most expect. The team put up a strong effort in a loss versus Stanford in which their Quarterback made team history:
s Arizona quarterback Matt Scott who made history, completing 45 of 69 passes for 491 yards and three touchdowns. The completions and attempts surpass previous records held by Willie Tuitama.