There's a Surprise at the Top of Russ Lande's Big Board
Updated: February 6, 2013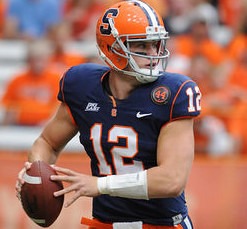 Look upon draft experts' big boards and you'll see plenty of different names at the top, but ex-NFL Scout Russ Lande surprised many people including myself, when Syracuse QB Ryan Nassib ranked as his top overall player.
I've been on the record thinking Nassib and Arkansas QB Tyler Wilson will be the most successful QB's among the class, but for Lande to put him first on his big board will certainly drop some jaws. Nassib is currently projected as a second round pick, but seems to be moving up the board (use Lande's board as proof).
Florida State DE Bjoern Werner was also given a top overall grade on Lande's board, but Nassib was given the nod because of the importance of his position. I'm not a huge fan of Werners. I think he has all the skills to be a good DE, but I don't see him as a perennial All-Pro. He tends to take plays off which should throw up some red flags for potential teams.
Nassib tends to be "jittery" in the pocket when defenders are in his face, but has improved his ability to read defenses every season at Syracuse. He has shown strong arm strength and propensity to make the big play when it's needed. His accuracy is spotty at times, but his footwork has been night and day to when he was a freshman.
Buffalo Bills head coach Doug Marrone is widely credited for developing Nassib into an NFL-caliber QB. If Nassib drops past the 40th pick (the Bills second round), we'll know his own head coach didn't think he was a 2nd round worthy pick. Remember, players like Colin Kaepernick, Andy Dalton, and Russell Wilson all took their teams to the playoffs this season despite not being 1st-round picks.
After Nassib, Lande ranked Tyler Wilson, Matt Barkley, Mike Glennon, and Gino Smith. Gino Smith is expected to be the first QB taken off the board, but it's a crap-shoot from there. The combine will show us a lot more once it comes. Don't put too much stock in what teams are saying or what the combine shows. How they perform on tape will be the main factor for teams selecting their QB. It should be a fun weekend.
Follow Chris on Twitter @ChrisDommermuth