Ray Ray Armstrong Banned from College Football, Off to NFL Draft
Updated: September 12, 2012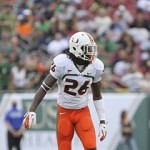 Remember when Ray Ram Armstrong was one of the top players in the 2013 Draft? With a strong season at Miami he probably would have been a first round pick. That was before things got real and Ray was sent packing.
Now he has been denied eligibility to compete in the lower level NAIA which means the next time we'll see Ray is at the NFL Combine:
It looks like the college playing days for former Miami safety Ray-Ray Armstrong are officially over. After being dismissed from the Hurricanes program for unspecified reasons in July, Armstrong has had his eligibility denied at his new stop, Faulkner University.