Thoughts on the Laremy Tunsil Video Situation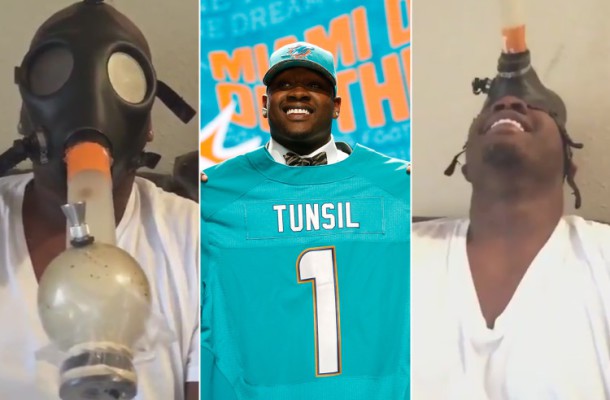 The Laremy Tunsil situation is one of the weirdest ones I've seen in the NFL Draft possibly ever.
For those that don't know, Tunsil's twitter account started tweeting crazy pictures minutes before Tunsil was expected to be a top five pick in the 2016 Draft. Photos of someone who appeared to resemble Laremy smoking out of a gas mask were posted to the account along with screenshots of a conversation asking for money from Ole Miss coaches.
Tunsil fell all the way to 13th (Miami Dolphins) after being passed on by the Baltimore Ravens and Tennessee Titans who both selected offensive tackles.
Let's break this down:
1. What did this mean?
For one, it tells me that Tunsil was never the runaway #1 overall prospect. For him to slide to 13th so easily that means that teams generally had him, Ronnie Stanley, and Jack Conklin all ranked about the same.
2. How does this even happen?
All I can think is that someone must (1) have Tunsil's phone? Or (2) have his iPad.
This is the only way someone would have that kind of screenshots and archived video of you, AND be able to post it at the absolute worst time in your life. Whatever device Laremy's blackmailer has in his or her possession is still logged in all of his accounts.
I hope the draft prospects learned something from this. For one, this could have all been avoided with a simple password change. Change the password on draft day.
Secondly, stop recording everything you do. 2016 is really the hotbed of the snitch era. I'm not trying to be that grumpy guy who hates on everything the new era does but I remember a time where you avoided cameras. Now these guys are recording themselves- and some of them are uploading it too!
Let's keep it at this. A great man once said:

Paper chasin', tell that paper, "Look, I'm right behind ya"
Bitch, real G's move in silence like lasagna
Get your money. Stop making it so easy for them to take it away from you.
#TheyDontWantYoutoWin