Oregon QB Marcus Mariota Impressive in Debut
Updated: September 2, 2012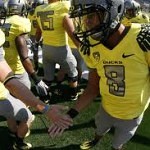 Granted he's a freshman, and not eligible until the 2015 Draft at the earliest but keep an eye on Oregon QB Marcus Mariota.
Yes he plays with insane talent in the backfield. Yes it is one game against Arkansas State. But you cannot deny the accuracy displayed in 18 of 22 passing, with 200 yards, and 3 touchdowns.
Yes I am aware Darron Thomas went undrafted and Jeremiah Masoli is out the league as well…. but keep an eye out.