Logan Thomas Looks Bad in Virginia Tech's Opener
Updated: September 4, 2012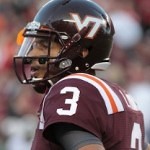 One of the players we had our eye on to start this season was Logan Thomas of Virginia Tech. At 6'5-6'6 and with enough mobility to evade defenders, many compared him to Cam Newton. Though Logan Thomas is no Cam Newton he is supposed to look much better than he did last night versus Georgia Tech.

The funny thing is that to the novice eye Georgia Tech's Tevin Washington actually looked like the better quarterback on Monday night. Tevin made some clutch throws as the jackets came back to take the lead late in the game. He later reverted back to his true form and threw the game away with an overtime interception, but that's a different story.
The story here is that Logan Thomas has to look much better going forward. VT's schedule softens up a bit so it is time for him to get back to 2011 form or risk losing his first round draft stock.