2013 NFL Mock Draft: Logan Thomas #1 Overall Pick?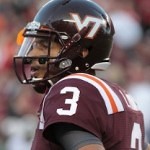 I will say it now, Logan Thomas is the dark horse to become the #1 pick in the 2013 draft. Yes, many people have Tyler Bray, Tyler Wilson, or Matt Barkley pegged at that spot but Thomas could very well be the first guy holding a NIKE jersey next Spring.
Why?
Two words: Cam Newton.
With the success of Newton in the NFL, the durable mobile QB has gained more and more value. Even a guy with a lesser skill set in Tim Tebow is still coveted by certain coaches. A quarterback that is basically your second running back gives your offense all sorts of flexibility that a traditional passer cannot. Remember, Cam Newton almost broke the rushing touchdown record last year- from the quarterback position.
Logan Thomas has a very similar skill set. He is tall like Cam, at 6'6 and can take a hit at 255 lbs. Last season at Virginia Tech Thomas threw for 3000 yards and 19 touchdowns to 10 interceptions. He is a pretty accurate passer though there is room for improvement. Similar to Cam. Logan also punched in TEN rushing touchdowns. All he's missing is the Superman celebration.
I am not saying Logan Thomas has Cam's speed, or running back like vision because I haven't seen it yet but he is a very comparable player. If you don't think there are teams out there that would prefer Logan Thomas over a Tyler Wilson or Tyler Bray, you are sadly mistaken.
All in all, I think with a solid season Thomas will be a top 10 pick easily. We may even have another Robert Griffin III-Andrew Luck situation where the team with the #2 pick trades out to a team that has Thomas #1 on their draft board. It just depends on what kind of season Thomas puts up in comparison to his $EC counterparts.