How Notre Dame's Membership Effects the ACC Football Schedule
Updated: September 12, 2012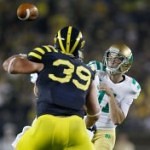 Just in case you are living under a boulder somewhere, Notre Dame announced that it will be joining the ACC for all sports except football. The announcement came earlier today amid a heavy amount of media attention as ND always gets.
With the Golden Domers coming to the Atlantic Coast (….how far is South Bend from the Coastline?) a lot of people are interested in what will be the future of Notre Dame and its Independent football status.
Well, we have answers.
The ACC announced the news today in a release which states that the Irish, as a partner, will play five games annually against league programs. According Eric Hanson of the South Bend Tribune, each ACC member is guaranteed to play Notre Dame in football once every three years.
A wise man once said, mo money, mo money, mo!