Floyd Mayweather Loses $3 Million on Alabama Bet
Updated: September 3, 2012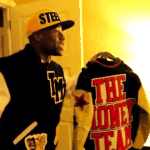 We told you a few days ago that Money Mayweather was planning on hitting up a spree of books with his Michigan +14 hunch, to the tune of just under $3 million. No word has arisen if Floyd actually placed such a bet but you can believe his twitter mentions were on fire as Alabama rocked Michigan 41-14.
The thing is, while he may have bet $3 million on the game, there is a strong possibility not all of that was on Alabama losing the contest. According to Black Sports Online Money May is known to hedge his big bets:
"Floyd routinely bets both sides of a game. That way he never fully loses. It is something a lot of gamblers do if they have enough money. He might have put $1.5 on Michigan and $1.5 on Bama, if Michigan wins he makes a profit, if they lost like they did, he doesn't take a full $3 million hit. It is smart, so both of the of those stories could be right."
Either way the #MoneyTeam will remain in full effect.
Never forget, we got indoor and outdoor pools over here!
#moneyteam