Justin Tuck Says Giants Dumped Prince Amukamara In Ice Tub Because They Love Him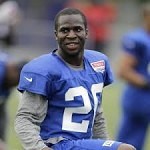 The NFL has pretty much passed this story off as a non issue. The four letter network has reported it as "just horseplay" but if you watch the video I think you still get a different vibe. Especially when Jason Pierre-Paul says he ain't doing to do nothing to me, F that n*gga.
That seemed like a mighty personal statement.
Team captain Justin Tuck says that the incident only happened because they love Prince and were just having some fun with him. Hmmm… Here is what Tuck said:
Mike Garafolo of the Newark Star-Ledger reported that Amukamara has been dunked eight times because the team wants him to show more edge and because they don't yet consider him to be done with his rookie year because he missed time with a broken foot last year.

Tuck said that Amukamara wasn't dunked because his teammates were hazing him or giving him a hard time about his lack of edge. It was all about the love.

"We don't dunk guys who we don't think will be a part of our team and are going to help our football team," Tuck said, via Tom Rock of Newsday. "It's kind of a good thing that you get dunked. I know that doesn't sound right, but Prince is one of those guys who everybody around this room loves and we find him to be one of the most amusing guys. He kind of in some ways enjoys the fact that we give him a hard time. Again, we're still very sensitive to the fact of the bullying epidemic that's around this world and how people can perceive it in the wrong light. We'll just try to be very conscious of that."