[Video] Jason Pierre-Paul Throws Prince Amukamara in Ice Tub "F that N*gga"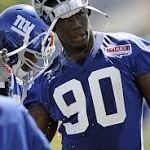 Bullying is not cool, whether you are in the NFL or the kid down the street. In the video below check out what happened when JPP caught Prince Amukamara at the wrong place at the wrong time.
My only question? Who filmed this and uploaded it?
Yup. Mr. Pierre-Paul the commissioner wants to speak with you.
Video: