David Garrard Needs Knee Surgery… Tannehill's Lane Just Opened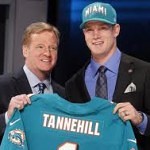 Remember that in the NFL, your main job is to not only play well and win games but to never let the guy behind you on the depth chart get on the field. Especially if you are a quarterback. The old adage of "you cannot lose a job to injury" died the day Kurt Warner won the MVP after being an unknown free agent QB who replaced then starter Trent Green. Then a few years later Drew Bledsoe got knocked out of a game and Tom Brady did the same thing….
With that said, it is Ryan Tannehill's time in Miami. David Garrard has announced he will not be ready for the season opener due to knee surgery. If Tannehill gets the start, he better run with it.
Dolphins QB David Garrard very recently had knee surgery that will sideline him, according to a league source.

— Sean Jensen (@seankjensen) August 10, 2012
This likely means either Matt Moore or rookie Ryan Tannenhill will start the regular season for the Dolphins

— Sean Jensen (@seankjensen) August 10, 2012
H/T BSO