Ryan Tannehill will be the Dolphins Starting QB, says Ryan Tannehill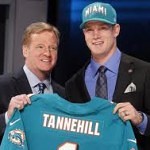 This is the type of confidence you want to see out of your young QB. Despite all reports saying that David Garrard is running away with the Dolphins' QB position (see: Ryan Tannehill is QB Not 1, Not 2, But 3 in Miami), rookie Ryan Tannehill is not ready to concede defeat.
Here is what Ryan had to say:
"I feel like I'm in it. I may be naive, but the coaches haven't given me any indication that I'm not, so I'm going to go out there every day and do my best to get better every day and hopefully win the job. I think they're going to work me in a little bit more. I'm not 100 percent sure, but leaving the spring that was the indication. I think they want to catch me back up to speed since I've been gone the past few days, then take it from there."
I believe the Dolphins will start with a depth chart of:
If the Dolphins are out of the playoff hunt early, then I expect that depth chart to flip and Tannehill get the start.