Trent Richardson Signs With Browns, Deal Fully Guaranteed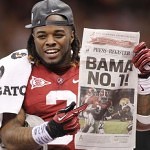 Trent Richardson is going to be the workhorse if the Browns quickly turn it around in 2012. After going third overall, the expectations are going to be high. Now that he is signed its time for the rookie runner to get those reps and get ready to go against the Ray Lewis' of the world:
Trent Richardson deal done, per sources. 4 yrs $20.4 mill fully guaranteed. $13.6 sign bonus.

— Chris Mortensen (@mortreport) July 24, 2012
I expect 1150 yards, 7 td, 2 rec td.