Ryan Tannehill is QB Not 1, Not 2, But 3 in Miami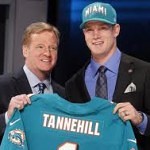 So much for giving the keys to Ryan Tannehill out of the gate. Word is from Dolphins camp that Ryan Tannehill is struggling adjusting to the speed of the pro game (as expected) and will be the third QB to start for the Fins.
Former Jaguar David Garrard is in the lead for starter right now:
Beat writer Brian Biggane attributes Tannehill lagging behind David Garrard and Matt Moore to "untimely mistakes, particularly when throwing into traffic." It should be noted that his pre-draft scouting report had a similar criticism. Biggane expects Tannehill to "continue his apprenticeship as the No. 3 guy." The Week 1 job will likely come down to Garrard and Moore. It's mildly concerning that Tannehill did not make a spring run up the depth chart considering his head start on OC Mike Sherman's offense. Tannehill was the No. 8 overall pick in the draft. Jul 2 – 11:48 AM
Expect Ryan to get a shot towards the end of the year, especially if the Dolphins are eliminated from playoff contention.