Hakeem Nicks Was Ineligible to Play at UNC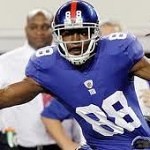 The fact that so much has come out about UNC does not surprise me one bit. I had a good source close to the program that told me of some of the things those guys were doing that are now public information and my first thought was, "Do they really think they are going to get away with that?" See there is a big difference between getting some free tats or a loaner car, and taking weekend trips to Miami like no one noticed #notsnitching.
Anyways, word is now coming out that Hakeem Nicks was ineligible during his last year. Apparently a tutor was doing his classwork for him. If you went to a D-1 school like YA BOY you aren't even going to bat an eye at this as it is incredibly common… #notsnitching
"The investigation confirmed that the former tutor had committed academic fraud with an on behalf of student-athletes 1, 2 and 3 during the 2008-09 academic year and the summer of 2009. Regarding student-athlete 1, a review of email communications revealed that on April 21, 2008, the former tutor wrote conclusion paragraphs for five of student-athlete 1′s writing assignments in an education course," the NCAA infractions report says. "By the time the violations were discovered, student-athlete 1 was no longer enrolled at the institution, so no further action was taken."
That still wont take away from THE CATCH….
H/T BSO