2014 NFL Draft Prospects to Watch this Weekend
Updated: September 27, 2013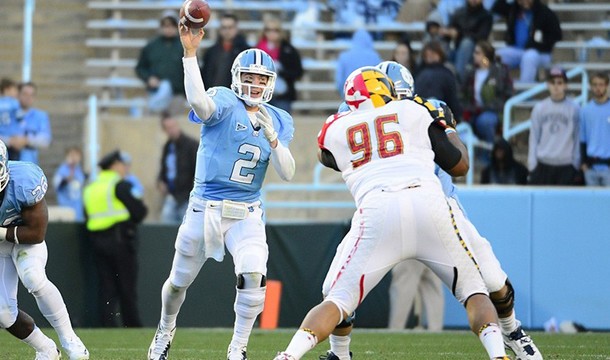 After last weekend's FBS vs. FCS slaughter, we are back on track in college football with some good match ups. As the Mock Draft HQ, of course we are interested in seeing which games will help boost draft stocks the most.
East Carolina at North Carolina
Bryn Renner hasn't helped his draft stock much this season, but a weak ECU defense comes to Chapel Hill Saturday to end that. Ruffin McNeil's Pirates are no strangers to shootouts due to their air raid offense and that bodes well for Mr. Renner who needs a good showing.
No. 6 LSU at No. 9 Georgia
You already know the story here- Aaron Murray and Todd Gurley are going head up with the vaulted LSU defense. It will be interesting to see if Zach Mettenberger can come through for the Tigers as well if the game gets close. Ultimately, this game may be the one that wins the Heisman Trophy for Gurley if he goes Beastmode.
No. 21 Ole Miss at No. 1 Alabama
Alabama is rolling downhill on the season (pun intended) and Ole Miss is one of the last formidable regular season match ups. This game not only is huge for AJ McCarron's draft stock but also those of his linemen namely Cyrus Kouandjio who will see his large share of the #1 ranked incoming freshman: Robert Nkemdiche.
No. 23 Wisconsin at No. 4 Ohio State
Wisconsin is one of the best running teams in the Nation, as they are every year. It is going to be a good matchup between that offensive line and Ohio State's defensive line to see if Buckeyes LB Ryan Shazier can stop Melvin Gordon and James White.