Buccaneers Trade DT Brian Price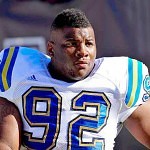 Brian Price was just drafted in the second round in 2010, and he is now on his second team. The Bucs have announced they have sent the defensive tackle to Chicago.

The Tampa Bay Buccaneers have announced that they traded Price, a defensive tackle who started 14 games in Tampa Bay last season, to the Bears for an undisclosed 2013 draft pick.
Brian Price and Gerald McCoy were supposed to be the anchors of the new improved Tampa defense that never materialized. Hopefully in Chicago Brian picks it up, and the Buccaneers can find a defensive tackle that fits with their team more.