Percy Harvin Wants a Trade… Why?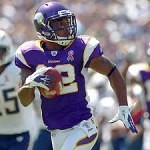 Vikings WR Percy Harvin requested a trade earlier today, of course which sent Twitter and the media channels a blaze. Why would a 24 year old wide receiver who hasn't even entered his prime request to be traded? Is he not getting along with teammates? Coaches? Or does he feel he is underutilized in the offense?
With 87 catches, and 52 carries in 2011 I am sure Percy is getting the ball enough. It seems that something is brushing Mr. Harvin the wrong way:
I'll just put it this way — it's a lot of different things that have to be sorted out. Just haven't been real happy lately. So, we've got a couple things to work on. I'm here in the classroom, so we'll go from here.

We're kind of keeping everything in house. If specific people choose to tell you the stories, then they do. I keep everything in house and we deal with things in house. So, that's the way I keep it.

I'm just not happy. I won't go into how unhappy. I'm just overall not happy with a couple situations.
Reading between the lines it looks like Percy wants a new deal, and the Vikings want to see what he plays over the next two years of the deal.