Deion Sanders Jr. to Prep School, Will Announce College Later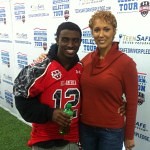 In case anyone is wondering, Primetme's son Deion Sanders Jr. has announced he will be going to prep school and announcing his college decision in December or earlier.
From what I've read following his recruiting, apparently the University of Houston offered him a scholarship but for some reason he did not take it. He also garnered interest from Cal, North Texas, and Wake Forest. We will see where he pops up in December.