Deion Sanders Jr Makes Under Armour All American Team
Updated: November 19, 2011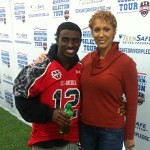 Deion Sanders Jr. posted a tweet last night that simply said:
"Thank You God… Made the Under Armour All American game!"
And as you can see he is wearing #12 in the game.  We have no word on what schools he is looking at but you have to believe that Florida State will be on the list somewhere thanks to Dad's influence.
We send a big congrats to Deion Jr. and check out his clothing like at The Well Off Society.