Tampa Bay Bucs Sign Paralyzed DT Eric LeGrand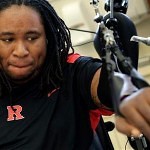 The Tampa Bay Buccaneers have signed paralyzed defensive tackle, former Rutgers defensive tackle Eric LeGrand to a contract.  LeGrand has been signed to serve as a motivator to the other players.
I don't know how this is going to work out with his schedule and all, but I expect Eric to be doing some press and motivational speaking on behalf of the Bucs and the league.  It will be interesting to see how they decide to use him in their PR.
Eric's statement on twitter:
This is honestly a blessing from above. I love you all keep following people believe we will make this happen
He also retweeted Lil Wayne who wrote,
Today Eric LeGrand was drafted into the NFL. Mark this down as a beautiful day in sports.