Buccaneers Waive QB Jordan Jefferson 4 Days After Career Begins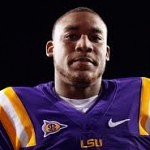 It is hard out here for an undrafted QB.

Jordan Jefferson, who you last saw in the National Championship game at LSU, has been cut by the Tampa Bay Buccaneers just four days after his pro career started. The Bucs announced their waiving of Jefferson today.
I don't think that anyone believed that Jefferson would be an NFL QB. But a four day career is pretty surprising. Maybe he will resurface in the UFL (are they still having seasons?), Arena League, or the CFL.
All young QBs need only to remember the name Kurt Warner to know that it is never over until they give up. If Jordan finds somewhere to play and works on his passing, who knows maybe he springs up in the NFL later in his career.