Bengals Rookie Brandon Joiner Sentenced to 3 Years In Prison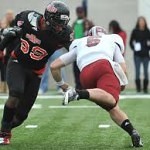 Brandon Joiner went undrafted in the 2012 NFL Draft, primarily because of his ongoing legal status due to the incident in which he's now sentenced. He likely will only do the three to six months if he's got any kind of money because we all know that rich people do less time (what's up T.I.!)
This is a reminder to anyone going after a goal you cannot get sidetracked with behavior like this no matter how bad your situation gets.
Linebacker Brandon Joiner has been sentenced to three years in prison for two counts of aggravated robbery and one count of felony drug possession. The charges stem from an incident in 2007 when Joiner was playing at Texas A&M.

Joiner and another man forced their way into an apartment and assaulted two men before binding them with duct tape. They stole their wallets, keys, cellphones and marijuana. When police searched Joiner's home they also found hydrocodone and Ectasy.

Joiner finished out his collegiate career at Arkansas State after the arrest forced him off the Texas A&M team. Joiner's lawyer said that they hope he will be released on parole after six to nine months if Joiner behaves himself behind bars.