Trent Richardson is on Twitter and Loves the Browns… One Small Problem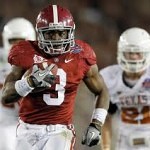 The small problem is that ain't Trent.
Apparently a fake Trent Richarson account popped up on Twitter confessing his love for the Browns, which sent the people of Cleveland wild of course.  Why do people torture the city like this?  They have been through enough.
The Twitter user TrentRich03 offered insightful commentary like "My favorite color Brown, no pun intended," and "Love the brownie mascot. Bring back the elf." Those were passed along by a Cleveland sports radio station and the Akron Beacon Journal, which later posted an apology for passing the tweets along as if they were really from Richardson.

ProFootballTalk
I hate to be near the Browns fans when they select Ryan Tannehill #4 and Trent goes on to become a Pro Bowl RB elsewhere.  Not that I don't like Tannehill, he just is not a top 10 draft pick.  But hey, sometimes your position gets you over drafted.
Either way, the draft is 2 weeks away.  I cannot wait.