2012 Draft: Ravens Doing Their Homework on C Peter Konz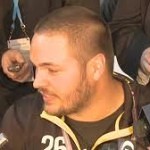 The Ravens are a team that is on the door step.  If Lee Evans catches a "gimmie" touchdown we may be dancing to a different tune when it comes to the Ravens.  Maybe Joe Flacco really becomes Top 5, maybe Ray Rice gets paid, maybe Reverend Ray and Ed Reed hang it up at the end of the 2011 season with a title.
We don't know the answers to all that.  We do know that the Ravens will be "pissed off for greatness" and looking to rectify last year's playoff loss.  With that said, center could be a spot they upgrade.  Matt Birk is not the youngest dog in the fight.
Though his status may have slipped a little in recent weeks according to draft pundits, he is still considered the top center available. He also remains the player most connected to the Ravens at pick 29.

Veteran center Matt Birk re-signed with the team, but there are no guarantees that he plays beyond the 2012 season and Newsome has talked about adding another center to the roster.

There is also the option of using Konz at left guard, where the Ravens have yet to replace Pro Bowl performer Ben Grubbs, and then sliding him over to center when Birk is ready to retire. DeCosta said yesterday that he feels Konz could handle the transition.
Source: The Sun