Vince Gone: Vincent Jackson Signs With the Bucs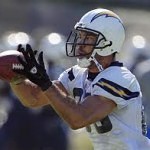 The Bucs were a team that many rumored to be in the market for a #1 WR. And with good reason why. Josh Freeman was absolutely terrible last year and much of that could be attributed to a lack of talent at the receiver spot. The Bucs have some young talent in Arrelious Benn and Mike Williams, but they were out played by the undrafted Dezmon Briscoe.
You know that Josh Freeman has to be excited right now, he finally has a legit #1 WR to add to those young up and coming receivers. Vincent Jackson is on the way, but he wasn't cheap:
Vincent Jackson agreed to five-year deal in Tampa with Bucs.

Vincent Jackson deal in Tampa: 5 yrs, $55.55 million, including $26 million guaranteed, $36 million in 1st 3 yrs, $26 million in 1st 2 yrs.
(Adam Schefter)