Minnesota Vikings 7 Round 2012 Mock Draft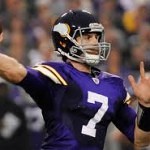 The Minnesota Vikings were on full rebuild mode in 2011. After watching Brett Favre retire, then Sidney Rice and Tavaris Jackson walk to the Seattle Seahawks you knew the Vikings offense was going to look much different in 2011 than in 2010. And it did. Journeyman QB Donovan McNabb started a few games and was eventually benched for rookie QB Christian Ponder from Florida State.
The team struggled but showed promise… then the unthinkable happened. Adrian Peterson blew his knee out in a horrific on-field accident and the team took a HUGE step back. Ponder showed some mobility in the pocket and some accuracy, but he was still a rookie QB at the end of the day. Going forward Leslie Fraiser must find CP some receivers, offensive tackles and find a way to get second round draft pick tight end Kyle Rudolph more involved.
But what will the Vikings do in the 2012 draft? In the following mock by emperortyphon we get a look at what could be the future of the Vikings.

Click here to read the Vikings full 7 round mock!