Browns Focusing In on Robert Griffin III?
Updated: February 20, 2012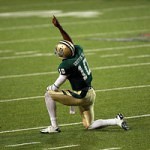 According to a report over at Pro Football Talk, the Cleveland Browns have narrowed their down to five prospects, and the odds on favorite looks to be trading up for Baylor's Robert Griffin III.
The quintet consists, per Cabot, of Baylor quarterback Robert Griffin III (pictured), Oklahoma State receiver Justin Blackmon, Alabama running back Trent Richardson, LSU cornerback Morris Claiborne, and Texas A&M quarterback Ryan Tannehill.

The Browns could trade up for Griffin. Or they could trade down for more picks, like they did last year with the sixth overall selection. And three years ago with the fifth overall selection.

Regardless, it'll be the fourth straight year that the Browns have a top-10 pick. Which rarely is a good thing.
I still think that this offense has holes to fill in everywhere else, but Cam Newton proved last year that even on a struggling offense a dynamic quarterback makes a world of difference. Will the Browns go down the same path? Time will tell.