2012 NFL Mock Draft: Doug Martin Getting 1st Round Grade
Updated: February 4, 2012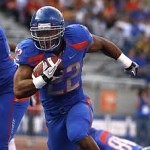 If you saw Boise State play any games this season you probably had a good look at Doug Martin. At 5'9 he is a compact, powerful runner, but also has the agility to make defenders miss when he needs too. That ability earned him kickoff return duties with the Broncos this year.
At the Senior Bowl Martin looked the part of a starting NFL running back, and the tweets and comments flew in on his likeness to one Ray Rice. Both smaller running backs that "flew under the radar" so to speak on a national level. Well, it looks that scouts have taken notice even after Isiah Pead stole the show at the Senior Bowl and are grading Martin as one of the best runners out.
According to SI.com draft analyst Tony Pauline, "several scouts" have tabbed Boise State RB Doug Martin with a first-round grade.

NFL front office members ordinarily devalue running backs on draft day, but the scouts have signed off on Martin as a top-32 prospect in 2012. According to Pauline, Martin "won't be far off" of the first round even if he doesn't quite make it in. At 5-foot-9, 219, Martin is considered pro-ready in terms of pass blocking and receiving skills and the ability to break tackles.