Packers to Franchise and Trade Matt Flynn?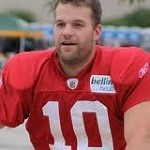 As the season comes to a close one thing is pretty clear to anyone that watched more than a few NFL games this year.  The level of quarterbacking in the NFL is at a real low right now.  In all seriousness, if Brett Favre were to announce his unretirement he'd probably get offers from MULTIPLE teams playing in the playoffs next week.
With that said, the free agency class is not much better.  The headliners in the class will be the Chiefs' Kyle Orton, the Raiders' Jason Campbell and the Packers' backup QB Matt Flynn.
The problem in getting Flynn is that the Pack may actually use the franchise tag on him.  That would force anyone who wants the former LSU Tiger to have to trade for him and pay an average of the top 5 quarterbacks base salaries in 2012.
The risk for the Packers is that no other team would want to send a first-round pick (and maybe more) to Green Bay for Flynn and also sign Flynn to a long-term deal with that one-year, $14.5 million guaranteed salary as the starting point for negotiations.  After all, Flynn has started only two career games; it's impossible to rule out the possibility that Mike McCarthy has opened an Andy Reid-style quarterback factory in Green Bay, with guys like Flynn playing far better for the Packers than they would perform anywhere else.

If, in the end, no one is willing to trade for Flynn, the Packers would be stuck with a backup quarterback with an eight-figure cap number, who would be making $6.5 million more in base salary than the eventual 2011 NFL MVP.
Obviously the price for such an unproven commodity is far too high if you are in need.  Jason Campbell looks far and away the much safer option, and will have his fair share of suitors this offseason.