2012 NFL Mock Draft: Cleveland Browns Draft With Trades!
Updated: January 12, 2012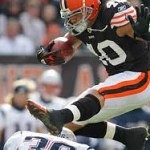 Remember when the Cleveland Browns had a 1,000 yard rusher in Peyton Hillis, were showing potential to compete in the AFC North, and Colt McCoy was looking like he may pan out into a legitimate starter as a rookie? That was not that long ago, as a matter of fact it was just last year.
What happened to the Browns?
Colt McCoy has regressed thanks in part to an offensive line with some holes in it and wide receivers that drop first down passes like they are live hand grenades. I actually got to see a bit of the Browns this year, and I felt bad for Colt the entire time. He escapes sacks only to throw nice passes… only for them to hit the turf. Let's not even get started on the lack of running game.
Paging Mr. Hillis… paging Mr. Hillis….
Where was he this year?
Defensively the Browns have always had talent and are loading up on young players with promise. I am a big fan of their nose tackle Phil Taylor. Jabaal Sheard has also played extremely well as a rookie, and as usual Joe Haden and TJ Ward continued showing that they are among some of the more promising young DB's in the game. If that defense could find another consistent pass rusher or two they could be very, very, very good with those defensive backs.
So what will the Browns do in the draft? Draft a pass rusher? Draft Robert Griffin III? Trade out?
osubuckeye55 has put together a realistic mock with trades for us. It is very detailed. Check it out below.
Mock below:
1

Browns

WR from Oklahoma State

Round 1, Pick 6 – TRADE with Washington Redskins: Redskins trade #6 pick in round 1 and #6 pick in round 3 for Cleveland's #4 pick in round 1. I have the Browns taking an actual weapon at WR in Blackmon and passing on a QB in this year's draft, hoping that they can land Barkley, Murray, or Wilson in next year's draft.

2

Browns

RB from Alabama

Round 1, Pick 10 – TRADE with Buffalo Bills: Bills trade #10 pick in round 1 for Cleveland's #22 in round 1, #6 pick in round 3 (acquired from Redskins), and #5 pick in round 4. While Blackmon is a great WR, he is not at the "elite level" at his position as A.J. Green was last year. The Brown's are seriously lacking elite playmakers on offense and could use Richardson to ignite the fan base. The Hillis situation will be addressed later in this draft.

3

Browns

OT from Ohio State

Round 2, Pick 5 – Everyone who knows anything about the Brown's starting roster knows that Tony Pashos is the worst RT in the league and needs an immediate replacement.

4

Browns

DE from Clemson

Round 2, Pick 12 – TRADE with Kansas City Chiefs: Chiefs trade #12 pick in round 2 for Peyton Hillis and #4 pick in round 5. I know that Hillis's contract expires after this season but I propose that the Browns place the franchise tag on him and then ship him off. While rarely done, this strategy is not unheard of, as the Packers are expected to do the exact same thing with Matt Flynn. The Chiefs have a lot of question marks with their offense. They aren't sure if Jamal Charles will be 100% when he returns after missing all of the 2011 season, Thomas Jones is getting too old to start in the league, and Dexter McCluster does not have the size to handle a starting workload of 20+ carries/game. Branch would provide some much needed pass rush help, as now Sheard is the only Brown putting pressure on opposing quarterbacks.

5

Browns

RB from Oregon

Round 3, Pick 4 – I know that I already have the Browns taking Richardson, but if they do get rid of Hillis, Hardesty is too injured to be dependable (even as a backup) and Ogbonnaya honestly depends on the practice squad. Richardson and James are completely different backs and would be good complements for each other. Together, with a stronger offensive line, they could help take pressure off of McCoy. Note: I would also be satisfied with another defensive player here like a CB or LB, if a good one falls this low. I'm clearly not expecting someone of Burfict's caliber to slide this far. However, with the Browns having desperate needs all over the field, they should capitalize if a highly ranked defensive player falls into their lap. The Alabama/LSU game showcased a lot of underrated defensive talent.

6

Browns

PK from Florida

I am not suggesting that the Browns draft a kicker here. I think Phil Dawson still has one more year left in his tank, I think picking up free agent kickers is safer than drafting them, and Dawson has proved to be one of the few Browns capable of scoring points. I left this space open to talk about what the Browns should do with their remaining picks in the draft. Many people feel the need to target other team needs in later rounds. In my opinion, rounds 4-7 are too late to find suitable starters. The Browns should use the remaining picks to draft the best available players and look for some depth all over the field. Bearing an injury to any of the few currently good players, Cleveland has no one on the bench capable of taking their place. This team seriously lacks depth at all major positions. I hope you enjoyed my mock draft and didn't see any of the picks as too ridiculous. I don't really expect the Browns to go through with all (or any, really) of these trades but it is some wishful thinking on my part. This year's draft is pretty deep with talent and I think the Browns would be wise to capitalize on their many picks.