2012 NFL Draft: Oregon QB Darron Thomas Declares
Updated: January 14, 2012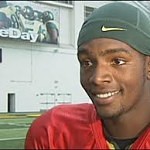 This is a shocker. Just hours before the deadline for underclassmen to declare for the draft, Oregon QB Darron Thomas has thrown his name into the draft. This is totally unexpected as some scouts feel that Thomas will not even be drafted.
Here are the details:
"I came to this decision on behalf of myself and my family," Thomas said in a prepared statement released by Oregon. "I have a dream of playing in the NFL and I'm going to pursue those dreams.

Source: Oregon Live
I believe Thomas will be a 5th round pick at best. He is accurate with the football and mobile. There are questions about his ability to adjust to a pro style offense along with his slight frame that will be a liability when he starts taking professional hits. Some also feel he may be a product of the system.
You have to imagine why would he declare so suddenly? A rumor going around is that Oregon may be hit with NCAA regulations regarding the recruitment of several of their current players… I hope that is not true but it sounds about right.
Either way, good luck Darron from MDHQ.