2012 NFL Mock Draft Archive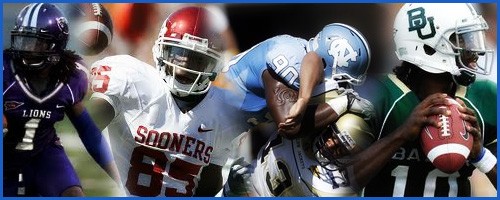 Here is where I will place all our old mocks.  For the latest mock draft of course see our 2012 mock draft here.  It just gets too long, so breaking up the archives from the latest mock seems like the best solution for right now.  Feel free to cringe and ridicule these old selections, I know I will.

Updated 1-5-12:
This was a crazy year for football in general. The offensive side of the ball dominated unlike any year I have ever seen in my time following the sport. The NFL has multiple guys nearing and breaking the 5,000 yard mark. College football has more 70 point games than I've ever seen. All that only means one thing… you better have a legitimate quarterback if you are going to compete on any level.
With that said, we have a nice selection of quarterbacks, and receivers that will be selected in round one. Matt Barkley will not be apart of that group as he is returning to school. The book is still out on Heisman winner Robert Griffin III but for the sake of this mock I will assume he is going to the league. Landry Jones has not announced a decision but I will assume he will enter because Oklahoma has a pretty good young quarterback behind him in Blake Bell.
With that said, here is my latest draft projections.
Updated 1-5-12:
1

Colts

QB from Stanford

How hard does this pick get? Pick Andrew Luck. If you want to gamble, trade out and get 5 players. But you better be sure Peyton is 1000% ready, and I don't think anyone in America would make that gamble. It's Luck's time. It's time to finally rebuild in Indy.

2

Rams

WR from Oklahoma State

A lot of people will have USC OT Matt Kalil here. While I really like him as a prospect I absolutely love Blackmon. Not the fastest or strongest guy, but he absolutely is a beast the way he tears through slants. I have no doubt he will be the quicker, uninjured version of Michael Crabtree.

3

Vikings

OT from USC

Leslie Fraiser will be back, and he needs to rebuild around Ponder. First thing is first, grab a franchise LT to protect your QB.

4

Browns

QB from Baylor

The hype around RGIII is at an all time HIGH, and the Browns hold a golden selection for whoever wants the Baylor QB. Just last year they cashed in and traded down to allow Atlanta to get Julio Jones. I believe they could do the same here, but either way the 4th selection should be RGIII.

5

Buccaneers

CB from LSU

The Bucs have had a disastrous season. They showed no fire down the stretch, and because of that Raheem Morris is looking for a job. I believe the new regime keeps much of the offense in tact and goes to replace Ronde Barber.

6

Redskins

DE from North Carolina

This is a placeholder pick. I believe the Redskins will actually not exercise this selection and instead will swap selections with the Browns to get RG3. The Browns would then pick Coples. RG3 is a QB that does everything Shanahan likes- moves the pocket, throws accurate on the run, and can run himself.

7

Jaguars

WR from South Carolina

This is such a hard pick to figure out because of all the moving parts in Jacksonville. Since Blaine Gabbert will only be a second year player I dont think they will harm his development, and actually get him a decent WR. A DE could very well be the pick if they like someone enough to take 7.

8

Dolphins

OT from Iowa

There are many ways you can go here. I could easily put Landry Jones here, but Matt Moore has shown everything you want to see from a QB. Maybe they still grab Landry to learn for a year or so, but Reiff pays bigger dividends quicker and gives you bookends with Long as two of the best young tackles in the game.

9

Panthers

WR from Notre Dame

Cam Newton set records. We all know that, but Legadew Nene probably set a record for most first down catches dropped as well. I know, the Panthers need that DT and will get him later. For now you grab the explosive Floyd and put him with Steve Smith.

10

Bills

DE from Illinois

Buffalo always could use a pass rusher, but is Mercilus worthy of the 10th overall selection? If you are going to go forward with Fitzpatrick and presumably resign Stevie Johnson and tell him to stop dancing, you have to find a pass rusher to keep your defense off the field.

11

Seahawks

QB from Oklahoma

I don't think that the Seahawks will wait for Matt Barkley. They are simply too talented a team to wait around to find a QB. Tavaris Jackson is a decent option but still breaks too many plays. You need a classic passer in this offense. That is Landry Jones who is one of the best QBs in the nation when he isnt under pressure.

12

Chiefs

OT from Stanford

If you are seriously starting Barry Richardson at RT for another year, you must want to lose. Has Kyle Orton done enough to garner another year? Possibly. Who knows.

13

Cardinals

OG from Stanford

Probably my favorite lineman in the draft, just a shame I cannot cheat and make him fall to Denver. Haha, the Cardinals need anyone on that line to block for… wait for it…. SKELTON.

14

Cowboys

CB from Alabama

The way Dallas' DBs finished the season I fully expect 3/4th of their defensive backs to get walking papers this offseason. Enough is enough.

15

Eagles

OLB from Boston College

EVERY single Eagles pick should be a LB. Yes the 9-wide defense resulted in inflated stats for Justin Babin, but it did not stop anyone. The Eagles never figured out a solution to their LB woes

16

Jets

WR from Baylor

Didn't expect this did you? The Jets are not going to replace Sanchez unless they can get Peyton Manning for a clearance rack kind of deal. It makes no sense to blame everything on Sanchez when (1) you don't run the ball anymore (2) aren't getting stops on defense and (3) have one wide receiver who doesn't get along with anyone, and another fresh outta jail

17

Bengals

RB from Alabama

Running backs are such bad positional value in the first round. We have seen time and time again where 2nd and 3rd rounders out produce 1st rounders in the same draft… but hey, someone is going to invest a 1st in Richardson and they should get a Pro Bowl RB in return.

18

Chargers

ILB from Alabama

Paging Larry English, paging Larry English….

19

Bears

WR from North Carolina

The #1 NEED for the Bears is to find someone who can hold a clipboard and actually complete passes in the NFL… but you don't draft backup QBs in the first round. You do draft tall WRs.

20

Titans

DT from Penn State

Yes, CJ only got 1k. Yes you are probably going to start either an almost 40 year old QB or a 2nd year player in Locker, but that defense was simply getting leaned back like Fat Joe… you have to get someone who can penetrate the line and cause a little havoc.

21

Broncos

CB from Virginia

I am not going to lie, I wanted to shed tears watching Dwayne Bowe use and abuse Champ Bailey just last week to the tune of 5 catches and 98 yards- IN THE FIRST HALF. Champ is still very good, and is exactly the type of guy you want mentoring a young CB with potential to be a lockdown before it is too late.

22

Giants

C from Wisconsin

The Giants need an interior lineman. Some believe Konz can play guard on the next level, which would workout just fine for Eli.

23

Bengals

CB from Florida

24

Texans

DT from Washington

The 3-4 in Houston needs a true NT but priority #1 for them is resigning Mario Williams.

25

Browns

WR from Rutgers

Sanu had a really good year this year, and should be picked in the first 40 picks or so. If you are going to keep Colt McCoy (remember I have them trading down with Washington and getting Coples) then you need to giving him weapons.

26

Lions

ILB from Arizona State

Every year some player falls out from a sure fire top 10 pick to the 20's and this year it is Mr. Burfict. When he got benched a few days ago for Arizona State's bowl game it pretty much sealed the "character issues" stamp on him. The Lions are no strangers to taking players with a mean streak and he fits right in with what they do, and fills a need.

27

Steelers

OT from Ohio State

How many sprained ankles is Ben going to play with? He is probably the toughest QB in the league hands down, but you always want your QB as healthy as possible.

28

Ravens

ILB from Alabama

Ray Lewis is going to retire if the Ravens win the Super Bowl. He's already made this public, so replace him now.

29

Patriots

DT from Michigan State

Some people like Worthy a lot more than others. I don't think he will be a top 15 pick. The positional value simply isn't there and there is a lot of DTs available in the 2nd round and beyond. Worthy is, worthy (ooh see what I did there) of a first rounder and will replace Albert Haynesworth in that rotation.

30

49ers

CB from South Carolina

Gilmore is a physical corner, and fits in just right with the 49ers.

31

Patriots

OLB from North Carolina

The Patriots have played a lot of 4 man fronts this year, and Brown is a 4-3 backer. But it really doesn't matter what defense you play when you are the dead last ranked defense. You add talent when and wherever you can get it, and figure out how to best utilize the players later which is what they do so well on offense.

32

Packers

RB from Miami

I cannot remember if Montee Ball threw his name in the draft yet or not. The people of Wisconsin will probably want him as a Packer, but he simply is not as talented as Lamar Miller. Miller has legit home run speed which is something the Packers would love to add at the RB spot.
Updated 10/6/11:
So we are a quarter into the NFL season. Time to update my 2012 NFL Mock Draft! Why not? A lot has changed. Primarily the draft order. As of right now there are some pretty bad teams in the NFL but if I had to bet money the Colts, Dolphins, Seahawks, or Chiefs will be getting LUCKY this year with the #1 overall selection.
Ryan Tannehill is no longer in my first round. Sad to have to take him out… but Robert Griffin III is on a tear, and his personality is going to cause teams to fall in love with him on the first date.
Though there won't be a lot of room for the first round QBs that actually works out to the teams favors. At least two teams are going to draft a starting QB after the first round in this draft. Bet on it. There is just too much talent to be had at QB this year.
Just missed the cut: Brandon Thompson DT Clemson, Jeff Fuller WR Texas A&M, Ryan Tannehill QB Texas A&M, TJ McDonald S USC.
1

Seahawks

QB from Stanford

Right now the Seahawks are winning #Suck4Luck. Tavaris and Charlie are just journeymen at this stage in their careers.

2

Chiefs

OT from USC

The Chiefs used a draft pick on G Rodney Hudson last year, and currently have Jared Gaither and Branden Albert as their tackles. Kalil is more talented than either. This team could use some help on either line offensive or defensive. I would not rule out a few trade downs as they need a lot of talent on those lines.

3

Colts

WR from Oklahoma State

I'm kind of cringing as I make this selection, as I would hope that the Colts would select a QB. But… they don't have to do it at the expense of getting their best WR this side of Reggie Wayne. Blackmon + Wayne + Collie + Dallas = Peyton with the Kool Aid Smile.

4

Browns

DE from North Carolina

They could use an upgrade over Pashos so Martin could be the pick here, but ultimately the selections of Sheard and Taylor showed that the Browns arent going to be pushed around on defense much longer. They select Coples and deal with the good problem of fitting him in their rotation.

5

Bengals

RB from Alabama

The most talented runner in this class goes to a team with a RB that cannot stay out of the headlines for the wrong reasons. Richardson/Benson/Scott is a nice trio, with Benson the odd man out in 2013.

6

Panthers

WR from South Carolina

Cam only has success when he throws to two people- Greg Olsen and Steve Smith. Smith is on the wrong side of the big 3-0 and though he will play well for a while, Cam needs someone other than Legadew Nene to throw to on that other side!

7

Vikings

OT from Stanford

Ponder will probably play the last 4 or so games, and he will get hit. A lot. With the durability concerns surrounding him you have to get a big guy on that line.

8

Dolphins

QB from USC

Chad Henne's career QB rating is 72 and he has thrown more INTs than TDs. Hmmm

9

Broncos

OG from Stanford

I've narrowed the Broncos pick down to three people. DeCastro, Luck, and Richardson.

10

49ers

CB from Alabama

They threw money at Nnamdi, so they have it for Dre.

11

Rams

WR from Notre Dame

Seriously, Sam Bradford is throwing to guys that might not make other teams.

12

Jaguars

CB from Nebraska

If the Jags cannot get a top WR I think they go defensive.

13

Raiders

CB from LSU

Routt is servicable but you need someone else.

14

Cardinals

OT from Iowa

You give Kolb all that cash… let him succeed.

15

Giants

ILB from Arizona State

It's really difficult to place Burflict in these rankings but he has to be somewhere. NY has a big enough need to grab a MLB here.

16

Titans

OLB from Boston College

Titans get one of the best tacklers in this class. I had a hard time placing him as well.

17

Bills

OT from Florida State

The Bills enjoy a certain gritty kind of player. Im sure they are going to extend Fitzpatrick, so getting him a OT is ideal.

18

Redskins

QB from Oklahoma

This worked out well. Grossman is a smaller QB and still has lapses. Even if he is your starter in 2012, Landry can be the man in 2013.

19

Buccaneers

CB from Florida

The Bucs are really familiar with Jenkins. They are right there in Florida (he played in Gainesville at one time) and you know they have a ton of tape on him. Raheem Morris is not afraid of taking calculated gambles and Jenkins fits that mold.

20

Cowboys

DE from Nebraska

Something about this pick is just weird. You know it wont be a QB RB or WR, they have enough of those. Just drafted the franchise LT… only thing that is left is a 3-4 DE or a DB. I think something weird is going to happen with Dallas' pick…. I wont even rule out RG3 or Ryan Tannehill here.

21

Chargers

DE from Florida State

Paging Larry English…. paging Larry English…

22

Lions

OT from Boise State

I dont have DJ Fluker in this draft as I am leaning towards him being in the 2013 draft, so he wont be in my 2012 NFL Mock… either way the Lions would like a better OT. Potter is sliding down draft boards but I think he stops his slide around this spot.

23

Bears

C from Ohio State

Jay Cutler needs this pick to happen. Seriously the guy has .5 seconds to throw. You cant get pressure right up the middle all season and not address it.

24

Steelers

ILB from Notre Dame

Foote, Farrior, and Harrison are the odd men out that rotation. Dont be surprised if all three are moved in 2013.

25

Browns

RB from Oregon

I call LaMichael James "the Reggie Bush with no chance in hell of being picked in the top 5." Anytime that the Browns have to resort to passing almost 50 TIMES in a game because Hillis gets strep…. you have to address that position. I know Hardesty has potential but a talent like James comes cheap at this spot in the draft.

26

Ravens

ILB from Alabama

The quicker you realize Ray Lewis wont play forever, the quicker you can make a transition to soften the blow when he hangs it up.

27

Eagles

OLB from North Carolina

The Dream Team's LBs are just getting taken advantage off right now with their weaknesses in coverage. That has always been the Eagle's achilles heel. At least Ernie Sims is gone.

28

Texans

DT from Washington

Probably the best 3-4 NT in this class. If Mario is really going to be a OLB at least try to keep guards from pulling on him.

29

Patriots

WR from Rutgers

Sanu caught one of the best catches this year and has been a really good WR quietly since last year. I expect Ochocinco to be shown the door, Branch is an older small WR which is never great. Bring in some additional youth here.

30

Jets

S from Maryland

This could be TJ McDonald as well. Just depends on whoever the Jets fall in love with more. I like Tate a tad bit better though both are really good. The Jets won't pick this low, this is just where they are currently ranked with ESPN's power rankings. They will pick a LOT higher than this in the 2012 NFL Draft. Id argue that they should probably trade for another first to really infuse this team with new talent.

31

Patriots

QB from Baylor

THIS PICK WILL NOT BE EXERCISED BY THE NEW ENGLAND PATRIOTS. Now that's out the way, lets get into the reasoning. Someone is going to fall in love with RG3. The kid is every bit as likeable as Tim Tebow, who went 1st round off personality alone. RG3 is all that, further along as a passer, and has legit Team USA expolsiveness. It would not surprise me one bit if a little blue horseshoe or a little blue star came on the board right… about… now…

32

Packers

OLB from West Virginia

This guy is going to be a beast with all the attention Clay will continue to get. They cant think he will be there in round 2.
Previous Update: 7/31/11
It's been a month since the last update to my 2012 Mock Draft. What has changed? Well NFL free agency has been a blur. We saw power moves being made, such as Nnamdi Asomugha joining the Philadelphia Eagles and the New Englad Patriots acquiring former Pro Bowlers Albert Haynesworth AND Chad Ochocinco. The latest mock reflects those signings.
Unlike the previous mock where I crammed as many WRs as I could in the first round, I was a bit more conservative in that regard. Instead I've added prospects such as Jonathan Martin of Stanford and DJ Fluker into the first round. This mock is a bit more practical than the previous (below).
Also, one final note. You are not going to like what I did with the Quarterbacks. You are not going to agree with at least two of those selections. But in this scenario, I felt I explained my reasoning for where I have them going. Anyways, on to the mock!
n="middle" style="border-bottom:1px solid #474747; padding:5px 0;">James, LaMichael RBfrom OregonJames will likely win the Heisman if Andrew Luck does not get it. That plus his gamebreaking ability is going to be appealing to a team with a bruiser at RB already.
1

Vikings

OT from USC

Don't get me wrong. This pick will be Andrew Luck QB Stanford, but the Vikings will earn this selection on their own merit. You dont let Sidney Rice walk, replace Brett Favre with Donovan McNabb and draft a TE in the first day when you have so many holes elsewhere.

2

Broncos

QB from Stanford

You may say it is a homer selection. I'll take the criticism. But when EFX decided that drafting a 240 lb DE/OLB was more important than drafting Marcel Dareus, Nick Fairley (or both) and failed to sign Brandon Mebane or Cullen Jenkins they put themselves in this position. I dont care if Tebow passes for 4,500 yards. The Broncos aren't going to win a lot of games and someone has to be the fall guy. Sorry Tim.

3

Titans

WR from South Carolina

Yes, this could and should be a WR or DE Quinton Coples. But ultimately I see the Titans going WR in an effort to build up some weapons for Locker. Kenny Britt can't catch passes from the courtroom or jail.

4

Bengals

DE from North Carolina

Their rookie out of Florida Carlos Dunlap is going to pan out. Michael Johnson is a rotational player. They will look to get stout on the other side.

5

Redskins

QB from Oklahoma

The Redskins arent fooling anyone. John Beck is not Kurt Warner. He is a 30 year 2nd year player for all intents and purposes. He simply doesnt have the experience to be a great QB yet and time isnt on his or Shanahan's side.

6

Panthers

WR from Oklahoma State

Cam Newton is going to be the most exciting rookie in the league once he gets to play. I will say that right now. They may not win a lot, but Cam is going to be fun to watch. He has legit size and speed to revolutionize running QBs as we know them. David Gettis is a nice WR along with Lafell but neither is the game breaking talent Blackmon is.

7

Cardinals

OT from Stanford

Martin and Andrew Luck's draft stock is intertwined like Jake Long and Chad Henne a few years ago. If Luck has a good season, Martin stands to benefit with a top 20 selection. The Cardinals just paid Kevin Kolb $3 million for each of his current career starts (thats 7 games for $21 million guaranteed). You got to protect him and keep Larry Fitzgerald happy. On a side note, the 2012 NFL Draft may be Wisenhunt's last draft as head coach if they pick this high.

8

Bills

OT from Alabama

The Bills are not going to select a QB in the first round of the 2012 NFL Draft. Or any draft. Ever. So I'm not even going to mock it.

9

Seahawks

QB from USC

Pete Carroll is kind of difficult to predict. Howeer for some reason I see drafting his collegiate QB impossible to pass up. Whitehurst is going to have to find work somewhere else next season. Tavaris and Barkley will be Pete's guys. Sorry 12th man.

10

49ers

CB from Alabama

The 49ers wanted Nnamdi and let Nate Clements go as well. Alex Smith gets one more year to prove himself.

11

Texans

ILB from Arizona State

The Texans are moving to a 3-4. Mario Williams will experiment as a LB for a season before they realize they should just trade him if they want to commit to this 3-4. Burflict joins Demeco in the middle and Cushing moves outside. Only question is if they keep Mario?

12

Browns

CB from South Carolina

I'll admit it. I almost gave the Browns the #1 pick in this draft. For some reason I just dont believe their team is going to be very competitive. They may lose to everyone in their division twice and I would not be surprised at all!

13

Lions

CB from Virginia

Alfonso Smith is not a true #1 corner. The Broncos realized this and traded him even after investing a first round pick to get him.

14

Rams

RB from Alabama

Steven Jackson is getting up there in career carries. It would have been nice to get Reggie Bush but he is done playing on turf. Richardson hopefully becomes MJD pt. 2 for this team on the rise.

15

Dolphins

QB from Texas AM

I wrote a post a few years ago on the commandments of the NFL Draft. If you do not have a franchise QB, you must draft one. While I dont think that Tannehill is a top 15 player in the 2012 NFL Draft, he will grade out as a first rounder-second rounder without a doubt and the Fins are in no position to go into another year with a Henne-Pennington depth chart.

16

Jaguars

WR from Notre Dame

You let your #1 WR go in free agency, the same year you draft a QB #11 overall. Yeah, that makes a lot of sense.

17

Patriots

DE from North Carolina

Not a pats fan, but what can I do? They will take the highest rated player and find a way to use him. That is what they do.

18

Chargers

CB from Virginia Tech

I really want to put Cliff Harris or Janoris Jenkins here, as they should be drafted about this spot but their personal issues will have teams thinking twice.

19

Giants

OLB from Boston College

This is the type of guy they Giants love to draft. BC linebackers are said to be Tom Coughlins personal favorite, and he snatched up top UDFA Herzlich. If he gets the chance to get Kuechly I dont know how he wouldn't.

20

Buccaneers

CB from Nebraska

Once again I cannot put probably the biggest gamebreaker in this class, Cliff Harris, here due to his personal problems. Dennard is said to be better than Prince Amukamara. Im not sure about all that, but he is a quality corner who will help any of the teams Nnamdi didn't sign with.

21

Chiefs

ILB from Notre Dame

The Chiefs have a great young offense with no needs. So this pick will be a defender or a lineman.

22

Colts

OLB from North Carolina

Is Peyton going to play? Is the Sun going to rise tomorrow morning? We know what the answer to both questions is. I will never mock a QB in this spot. Peyton will play into his 40's easily.

23

Packers

DT from Michigan State

Sometimes the rich just get richer. After losing Cullen Jenkins they luck up on Jerel Worthy in this scenario.

24

Raiders

CB from Oregon

I literally tossed a coin here between Jenkins and Harris, which is sad at this spot because both have the ability to be the first corner taken in the 2012 draft. I'm going to mock Harris here because he won the coin toss. The Radiers will win some games in 2011, but Nnamdi's loss will be felt.

25

Cowboys

DE from Florida State

Is Anthony Spencer going to come alive in 2011? Yet to be seen. So Jenkins is a Cowboy in this scenario.

26

Steelers

WR from Texas AM

Even if they get Plaxico Burress he isnt going to be the old Plaxico Burress. 2 years without any football will not translate into instant domination.

27

Browns

28

Bears

C from Ohio State

The Bears will trade infront of New England to get Brewster. It seems like Olin Krewtz will not be back in 2011. And if he is, he for sure will be gone by 2012.

29

Patriots

OT from Iowa

Let's be serious. This pick will not be exercised by the New England Patriots.

30

Jets

CB from Florida

So you cannot get Nnamdi, already have Kyle Wilson and Darrelle Revis. What do you do? Take a flier on the best CB in the entire class, who's draft stock fell due to personal problems.

31

Ravens

ILB from Alabama

If this is Ray Ray's final season, then the Ravens need a future ILB. Upshaw is the highest rated ILB left on the board.

32

Eagles

OLB from Oklahoma

I had a hard time deciding whether to give the Eagles Mark Barron S Alabama or Travis Lewis. Ultimately images of Ernie Sims trying to cover TE's flashed in my mind and I picked Lewis. And yes, I have them winning the SB due to signing Nnamdi and getting DRC. Michael Vick has to play at least 13 games and remain relatively uninjured. But I still think that if he were to get injured Vince Young gives them a legit shot to go all the way with that offense, if he can stay mentally in it!
Previous Update 6/16/11:
We are going to do something a little different.  Several times during the season I will update the Official Mock Draft HQ mock draft on this page.  If you own a mock draft database, or anything similar feel free to share this page.
Now on to the 2012 mock draft.  A few notes before we begin.  There are way too many receivers in the first round, I know.  There are some teams in need but really will that many teams pull the trigger on what looks to be a pretty decent WR class?  In the 2011 draft we saw 6 QBs go in the first 50 picks, of which maybe only 1 or 2 ultimately carried a legit first round grade from many pundits and scouts.  A similar thing could happen in 2012 with the plethora of WR talent creating a logjam at the top.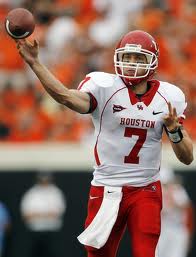 One final note.  I really wanted to include Houston QB Case Keenum in this draft, as I feel he will be the "Christian Ponder" of 2012.  Injured and given a medical redshirt for 2011, Keenum was probably given a blessing in disguise as he avoided the jam packed 2011 QB class and has a chance to stand out among a much more talented class this season.  And if the younger QBs stay in school… he will without a doubt shoot up into the first day.
Thanks to FootballFanSpot for including us in their draft database.
Anyways, on to the draft! Enjoy!
1

Redskins

QB from Stanford

The Redskins are not trying to win in 2012. Sorry Skins fans, but I do not buy all this John Beck talk. Yes, most QB's come into their own in their early 30's but John Beck has virtually no experience as he was a 26 year old rookie. The Skins make the only pick they should and take Andrew Luck is Shanny's next new toy.

2

Seahawks

QB from USC

Pete Carroll might get Carson Palmer or some other vet for a season. But that is one season. This team has no future at the QB position. Whitehurst is not that guy.

3

Panthers

WR from South Carolina

Steve Smith is not walking through that door. Mushin Muhammad might want to walk through that door, but we are going to keep it closed for him in this scenario. The Panthers started rebuilding their WR corps last year, and continue to get the ICON more weapons.

4

Broncos

CB from Alabama

The Broncos management will take a good hard look at replacing Tebow, but instead of endure the PR hell of taking a first round QB to directly compete with the fan favorite they set their sights on a Case Keenum in round two. In round one the Broncos rebuild their defense and take a young CB to learn under Champ and eventually replace him.

5

Cardinals

DE from North Carolina

Coples could easily end up the first player taken in this draft. With Josh Skelton still getting reps behind a veteran (Kolb or McNabb?) they won't take a passer.

6

Bills

OT from USC

WHAT?! First surprise, surprise. The Bills are COOL on drafting a first round QB. They take a tackle to add to the youth movement along their line infront of Ryan Fitzpatrick. Fitzpatrick becomes a fan favorite, once again passing for around 4000 yards, but once again failing to pile up those W's.

7

Bengals

RB from Alabama

Would have been a first round pick in 2011, and probably drafted before Mark Ingram. Cedric Benson is getting up there in career carries and he may have an "Eddie George" like RAPID deterioration.

8

Titans

DE from North Carolina

Jake Locker is not going to take them to the promise land in year one, and isn't expected too. He will have his lumps, but ultimately he should be a decent starter. The Titans still need to find a playmaker in that front seven, and even if Akeem Ayers proves to be that guy he will need help in this 2012 NFL Mock Draft.

9

Vikings

OT from Boise State

With a strong season, Nate Potter could reclaim his top ten draft status he had at this point a year ago. The Vikings reached for Christian Ponder, and have to plan to protect him. B Major is on his last legs being regulated to RT at this point in his career.

10

Dolphins

QB from Oklahoma

I am going to try this again. In my 2011 final mock I predicted Ryan Mallett here. Maybe the Fins finally realize Chad Henne is not going to win them a playoff game, ever, and replace him.

11

49ers

CB from South Carolina

Don't get me wrong, I still think Janoris Jenkins is the best of this group but I do not think he will be picked early. Gilmore is going to shoot up draft boards due to playing in the $EC and having a nice pro day.

12

Jaguars

WR from Oklahoma State

Quick! Name the Jaguars starting wide receivers. See what I just did there? Blaine Gabbert is used to throwing to 5 wide out sets, so the Jags might as well start stock piling them now.

13

Chiefs

DT from Michigan State

Do you believe in Glenn Dorsey? Tyson Jackson? The Chiefs have not faired well going to the DT well, but the draft is a game of averages. If you select enough of one position you will get a quality starter. So in this 2012 NFL Mock Draft, that happens.

14

Browns

WR from Notre Dame

In 2011, the Browns focused on the meat and potatoes, drafting DT Phil Taylor, FB Owen Mariec, and De Jabbal Sheard (Im allowed to spell off of those names wrong, BTW). It's time to give Colt and Peyton Hillis some help along the outside with a truly explosive game breaker in Floyd.

15

Texans

DT from Miami

Im putting this as a placeholder. I have no idea how the Houston 3-4 will work. Either way after drafting 3 DBs in 2011, the Texans need to turn to the interior of their line and find a DT.

16

Cowboys

ILB from Arizona State

The Cowboys ignored LB as they filled in other needs in 2011. If Spencer can't man the position this year his replacement will be drafted.

17

Jets

WR from Texas AM

Yes the Jets drafted two WRs last year, but if they fail to impress there may still be a HUGE hole here. Santonio or Braylon will be gone due to salary considerations. Randy Moss could be brought in as a one year rental but EVEN THEN you need another top WR. Especially when the Patriots have Devin McCourty AND Ras-I Dowling now.

18

Lions

ILB from Notre Dame

In 2011, the Lions made THE power move of the draft in my opinion picking up Nick Fairley. Do you really think he is going to be lazy with Ndamukong Suh practicing with him every summer? If those two stay together… the Lions will be winning division titles in a few season. Mark my words. Put Te'o behind them and now you have something great forming in Detroit.

19

Patriots

OT from Iowa

(from New Orleans – Mark Ingram) Yes this is a little lower than you will see him selected on other mocks. But there may not be a huge run on OTs in 2012. The Patriots are no strangers to selecting BPA, or just trading out of the position all together.

20

Bears

WR from Stanford

I have to give Cutler and co. a WR here.

21

Raiders

CB from Oregon

If this isn't a Raider pick, I have no idea what's one…

22

Eagles

CB from Virginia Tech

Mike Vick publicly said he wanted to see the Eagles draft a CB with their first round pick in 2011. That did not happen. If they are toasted and sent home early again, maybe they will listen… maybe.

23

Buccaneers

CB from Florida

Whaaaaaaaaaaaat? Yes. Even with the often arrested Aqib Talib, the Buccaneers could take the gamble in Janoris Jenkins. Raheem Morris was able to get the best out of Legarrette Blount and Mike Williams after their troubled college careers. Remember that.

24

Chargers

WR from Oklahoma

Will V Jax get that big contact?! Not from the Chargers he won't.

25

Rams

OLB from Oklahoma

Depending on who you ask, Lewis is a borderline 1-2nd round prospect. With a good season he can sneak into the first to a team that needs a OLB.

26

Patriots

C from Ohio State

You and I know this pick won't be exercised. The team that ultimately trades for this selection will do it in anticipation of the Giants stealing Brewster from them later. Yes, I just put a placeholder pick in a projection of a draft almost a year away.

27

Packers

DE from Nebraska

Didn't John Jolly get caught with THE JUICE?!

28

Steelers

OG from Iowa

The Steelers had a deal with the Redskins to move up and select Mike Pouncey. They drafted a G in 2011, but ultimately one wont be enough.

29

Giants

RB from Arkansas

I really like Knile Davis at this spot. The Giants will be in need of fresh legs to take the wear and tear off Bradshaw and extend his career. Brandon Jacobs will likely be done or ineffective.

30

Colts

WR from Rutgers

Too many questions with Collie and Gonzalez. Blair White isn't that guy.

31

Browns

RB from Oregon

(from Atlanta – Julio Jones) the offensive youth movement continues. Can you imagine Hillis and James, along with Greg Little and Michael Floyd on the outside? Cribbs in the slot?!!!!!

32

Ravens

S from Miami

2011 could be the last season we see both Ray Lewis and Ed Reed. If they go out as champions, the Ravens will still be in a world of hurt trying to replace them. Going back to the well that is 'The U' one more time may be what keeps the Ravens going forward after the Reed/Lewis era.