2012 NFL Mock Draft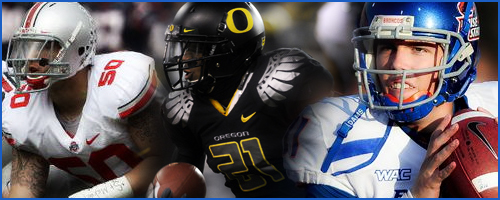 Click Here For Previous Mocks! The 2012 Draft Archive
This mock is old… CLICK HERE FOR THE FINAL 2012 MOCK!
We are two weeks away from the 2012 NFL Draft. I guess it would be a good time to update the draft. A lot has happened, not only in the league but here at MDHQ as well.
Let's tackle the NFL first. The Denver Broncos signed "the greatest free agent of all time" in the 4-time Pro Bowl QB Peyton Manning. They also sent former QB Tim Tebow packing to the NY Jets (he's excited about it!)
The New Orleans Saints were slammed for creating a bounty program. We don't currently know if any of the rumored 27 players will be suspended but Coach Sean Payton has been suspended and cannot have contact with the team until after the 2012 Super Bowl. On top of that the Saints were forced to vacate their 2012 second round draft pick. Insane, I know.
Here at MDHQ we went through some changes. Some you may see, some you may not. The draft page got a complete rehaul, as well as the player pages as well. The site is still doing well, but I will say this:
If you support the site then link to us! A simple link on your blog/website would be GREATLY appreciated! It goes a long way, it really does.
We also launched the MDHQ iPhone app. Big thank you to everyone who has downloaded it so far.
The actual draft has been shaken up a bit by free agency and a few trades (RGIII to DC?!) so I am sure you will enjoy the long awaited update:
1

Colts

QB from Stanford

All but said and done. Luck will be the pick, period.

2

Redskins

QB from Baylor

The Skins need a QB, and with that said it's RG3 to DC.

3

Vikings

OT from USC

The Vikings like Kalil. Kalil plays with great leverage and says he is the best LT in the draft. Easily the best value pick over a WR.

4

Browns

RB from Alabama

This is where the draft could turn. This pick could easily be Ryan Tannehill but from what it looks like the Browns are looking at another QB in the first.

5

Buccaneers

CB from LSU

I would mock Tampa another defensive lineman here, as there is no RB worth the pick but there is too much drama in the defensive backfield. Ronde is back, and Aqib will be on trial soon. Time to replace both.

6

Rams

WR from Oklahoma State

The Rams basically traded back 4 spots, got a bunch of premium picks and still got they guy they wanted at #2 overall. Justin Blackmon is the pick. Despite only being 6'1 I think his collegiate resume will weigh over Floyd's measurables and give him the nod.

7

Jaguars

WR from Notre Dame

The Jags made it rain on Laurent Robinson, but was that really enough? Is Michael Floyd the seventh best prospect in this draft? The answer to both questions may be no, but I think eventually Floyd will be a Pro Bowl WR and no one will remember he was drafted over a Melvin Ingram or Quentin Coples.

8

Dolphins

QB from Texas AM

I've gone back and forth on this pick. I think Tannehill will be drafted here or 4th overall, I just cannot decide where. In this scenario if he is available then he goes to Miami.

9

Panthers

WR from Georgia Tech

The first shocker pick in this mock. No I don't think Stephen Hill is the 9th best player in this draft, but what do you do if you are Carolina? When I look at their depth chart I still see Steve Smith and Legadew Nene at the top of it. Some WR is going to get overdrafted either here or to Buffalo and Im predicting it will be Hill due to his measurables.

10

Bills

OT from Iowa

Stevie Johnson resigned. Check. Ryan Fitzpatrick extended. Check. Now who is going to block long enough for Fitz to get the ball to Steve?

11

Chiefs

NT from Mississippi

The Chiefs have decisions to make. Brandon Weeden #11? Nah. David DeCastro? It could happen. What about grabbing Dontari Poe who's climed up draft boards? Looks like they will get healthy on offense and upgrade the defense.

12

Seahawks

DE from South Carolina

Melvin Ingram is another guy that had a strong season and a nice showing in all his workouts. I know he projects to a 3-4 but Denver proved you take athletic beasts on defense and plug them in where you can. Ingram gets the nod over Coples due to Coples underwhelming Senior season.

13

Cardinals

OG from Stanford

I like the upside of Josh Skelton. I think he will take Kolb's job and won't have to work hard to do it. But no matter who is the QB, there needs to be an influx of talent on this offense. You have Fitzgerald, you have Ryan Williams coming off injury, a nice lineman could be the last piece to finally get them going.

14

Cowboys

DE from North Carolina

Dallas makes a big splash and grabs one of the best players left at this spot. Yes, Fletcher Cox is available but Coples is a true 3-4 DE. He will fit right into that system. With a guy like Demarcus Ware in the locker room I suddenly think Coples' effort will not be a problem.

15

Eagles

DT from Mississippi State

I would love to see Cox slide all the way to the #25 pick but let's be honest…. that is not happening. Probably the second faster riser right now behind Stephen Hill, Cox will be one of the answers to the Eagles defensive woes in the middle.

16

Jets

S from Alabama

Teeebow Teee-bow! Dont be surprised if "Jets fans" (I.E. Tebow fans in disguise) are already chanting his name at the draft. However the Jets are going to have to get a safety here and find a WR later. I think they Jets are going to hedge the fact that Jim Leonhard may never get back to form after a bad knee injury.

17

Bengals

CB from Alabama

I could put any of 5 players here, I really could. But I'll go with the highest rated CB. Cedric Benson needs to be replaced as well but no RBs are worth drafting this high.

18

Chargers

OLB from Alabama

Say it with me: PAGING LARRY ENGLISH….

19

Bears

OG from Georgia

Yes, the Bears have to replace Johnny Knox (he wont play in 2012) but with Brandon Marshall commanding occasional double teams, you have Devin Hester and Earl Bennett and his shiny shoes getting single coverage with #3 CBs and safeties. They have to step it up.

20

Titans

CB from South Carolina

If Janoris Jenkins had less drama surrounding him, he would be the pick.

21

Bengals

C from Wisconsin

Once again, the Bengals have to decide whether to grab a RB early, or go with a different position. They would be best served to upgrade the guard spot with Konz, and get a RB later.

22

Browns

QB from Oklahoma State

That noise you just heard was Colt McCoy slamming is laptop. Sorry Colt, but the Browns are going to make you the fall guy for a miserable 2011 campaign. Weeden will be 29 but with the seat already hot in Cleveland for Holmgren and Savage Heckert are they really going to draft another young QB? They need someone to start beating the Bengals, Ravens, and Steelers now. Not maybe in the future.

23

Lions

CB from Florida

If anyone picks Jenkins with a first round pick it may be no other than Detroit. They like players with a mean streak, which Jenkins has shown a bit off.

24

Steelers

OLB from Boston College

How did this happen? How did the Steelers get another good player just to fall in their laps? It seems to happen every year. Kuechly would have Black and Gold fans talking about going for a 7th title.

25

Broncos

RB from Boise State

Oh you though this pick was going to be DT Michael Brockers? I just cannot see Del Rio and Fox, who know they are in WIN RIGHT THE HECK NOW mode to take such a raw, unproven player and put him in the middle of the defense. This is the deepest DT draft in a long time and the Broncos can always load up on DTs later. First and foremost the Broncos need a young RB who can pick up blitzes on third down for Peyton Manning and spell/take over for Willis McGahee. Martin is compared favorably to Ray Rice.

26

Texans

WR from South Carolina

Andre Johnson would love to see this happen. Alshon Jeffrey looks like he will fall due to the rise of Stephen Hill and the up and down opinion on him. Yes, Jeffrey looked great in workouts but that doesn't eliminate the fact that he was overweight by almost 20 pounds during the season. He also never had a great QB throwing him the ball which makes him even harder to really project. He will fall due to all of these factors but the Texans at 26 can afford this gamble.

27

Patriots

WR from Baylor

The people of Houston are probably disappointed the Texans take the bigger risk/reward in Jeffrey and pass on Baylor's own Kendall Wright. Kendall has great game speed even if he isn't timed at great speeds. The Patriots have made it clear that Tom Brady cannot win a title with just the merit of his right arm. He needs explosive players to get the ball to.

28

Packers

DE from USC

Clay Matthew's 6 sacks led this squad last year. The Bears have gotten better. The Vikings are young and fiesty, the Lions are on the way. You have to stop relying on winning shootouts and start getting to the other teams' QB more often to remain elite if you are Green Bay.

29

Ravens

ILB from Alabama

The Ravens have probably a little over 14 months left in Ray Lewis' professional career. This is it. They have to get the heir to the throne. Donta Hightower will be the man with the burden of replacing the greatest MLB in league history.

30

49ers

TE from Stanford

Yes there may be a more pressing need at WR, but where do you go if you are the 49ers. Remember the coach here is still Jim Harbaugh, the same guy who created a system in which #1 pick Andrew Luck passed for 9000 career yards throwing primarily to Mr. Fleener, the other TE and a host of running backs.

31

Patriots

DT from Penn State

Still is a defensive leader, and is a decent value pick here. He is projected to fall into the 40's on most "professional" mocks so admittedly he is overdrafted, but I just dont see anyone buying Brockers hype. 6-6 300+ with 2.0 sacks in an 11 game season? Seriously? Still doubled his collegiate production.

32

Giants

RB from Virginia Tech

The Giants are in a tough spot. Not really, they won the Super Bowl but in this mock Coby Fleener is snatched up 2 picks earlier. So what do they do? Grab the best RB available to take some wear off Bradshaw and his bad foot. Wilson is a workhorse RB in his own right but he does have fumble issues. The good thing is the last time the Giants drafted a RB from Virginia with fumble issues he turned out pretty good.

Thanks to FootballFanSpot for including us in their draft database.
Also, thanks to FFToolbox.com for adding up to their draft database.
Each year the odds of each NFL team making it to the Super Bowl changes because of the draft.