UNC WR Dwight Jones Suspended For Planning To Make It Rain at Birthday Party
Updated: December 21, 2011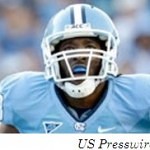 The NCAA is wild sometimes. You can't dance in the endzone, you cant dance before you get to the endzone, and you can't even accept a free pizza or tattoo if you are an athlete. We've seen things as trivial as Demariyus Thomas getting busted for accepting $300 in shirts and pants AFTER he graduated. Now you can't even make it rain at your own private party in peace. That's what UNC WR Dwight Jones learned the hard way:
The University of North Carolina on Tuesday declared Dwight Jones, the Tar Heels leading receiver, ineligible for the Independence Bowl after Jones allowed his name and image to be used to promote a party in Burlington, his hometown.

NCAA rules prohibit athletes from allowing their name or image to be used to promote an off-campus business or for-profit entity. Jones committed a secondary NCAA violation when he allowed his name and image to promote a birthday party in his honor on New Year's Eve.

UNC has applied to the NCAA for Jones' reinstatement. Jones apologized in a statement and said the party has been canceled.

Source: Charlotte Observer
I can see where the issue is. The NCAA doesn't like the fact that Jones' is going to make money off his OWN IMAGE. But the thing is, if his athletic duties are fulfilled isn't this a moot point? This isn't like a Sophomore doing this then coming back in the fall. This is a Senior celebrating after his final game.
December 26th is Dwight Jones' final day as a collegiate football player.
The party is December 31st.
Problem?
I don't see one either.